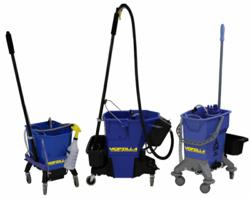 Mopzilla has set the monstrous new standard of clean.
West Palm Beach, FL (PRWEB) May 26, 2011
OR Innovation has just introduced a new product Mopzilla, which addresses the many hazards created by the conventional mop. Numerous studies have proven that the well-known string and pre-soaked micro fiber flat mops spread harmful bacteria and viruses rather than eliminating them. This problem most commonly occurs in places such as hospitals, schools, grocery stores, gyms and offices. The unsuspecting public may not know that mops and buckets continually cause cross contamination, carrying contaminants from one room or area to another. In addition, these mops leave the floor wet causing thousands of slip and fall injuries.
When using a mop in a bathroom, it absorbs fluids and contaminates such as urine, and feces which harbor many infectious bacteria and viruses. When the mop is wrung out just once into a bucket, whatever microorganisms were picked up will contaminate the cleaning solution as well stay attached to the fibers of the mop. From that point on the microorganisms will be spread around by way of mop onto other floor areas. As is typical of cleaning methods used today, the same mop will be used to clean bathrooms, halls, cafeterias, patient rooms, operating rooms and lobbies. Without a proper system to sanitize the entire mop and bucket before moving from one location to another, the cleaning process is useless and contributes to the spread of microorganisms onto floors that were intended to be disinfected and cleaned.
Another problem caused by string and pre-soaked flat mops is the time required for the wet floor to dry. A wet floor causes slip and fall injuries, creating liability cases, workers compensation claims, and rising costs of insurance premiums. Instead of making an area safer, the conventional mop and bucket make it hazardous.
OR Innovation recently developed Mopzilla, which avoids cross contamination, the re-colonization of bacteria during the fluid evaporation period, and slip and fall injuries. With its patent pending design, Mopzilla will first dispense cleaning solution onto the floor and then evacuate over 99% of the fluid into a separate reservoir. Compared to standard string and flat mops the floor is left substantially drier and cleaner, as demonstrated in the independent ATP laboratory tests done with the Mopzilla versus the latest pre-soaked mop.
Mopzilla features a cleaning system that has one reservoir for the cleaning solution and a separate reservoir for the dirty fluids evacuated off the floor. This avoids the dipping, and wringing of an unclean mop into a cleaning solution that eventually becomes diluted with filth and weakened. With its rechargeable battery operated pump it can run continuously for 90 minutes. When left plugged in it can run continually. Mopzilla's Entire System Sanitization feature (ESS) sterilizes the system within 30 seconds before going from one area to another eliminating cross contamination. The Auto Drain Feature (ADF) eliminates the need to empty a bucket by lifting or dumping it into a sink or drain causing back injuries to maintenance personnel. In addition, Mopzilla is capable of safely and quickly evacuating and gathering broken glass while preventing the risk of cuts.
No larger than a conventional mop and bucket, the "Mopzilla has set the monstrous new standard of clean." says Jamie Rawet the president of OR Innovation.
Mopzilla comes in three different models. A commercial model for facilities such as restaurants, grocery stores and hotels, a medical model capable of containing bio hazardous fluids for disposal used in hospitals and clinics, and a compact model which can be stored in a small space.
# # #