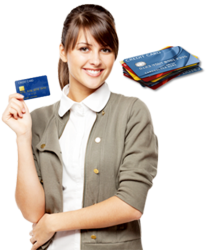 Greenville. SC (PRWEB) June 27, 2013
A brand new business causing such a large ripple in the credit industry is something to pay attention to. This is exactly what Credit Help Cards has done since their recent launch, an effect that is mostly due to their ridiculously high approval rates. Credit Help Cards has managed to approve nearly 100% of their applicants for high quality bad credit credit cards, and they have consistently worked to make the percentages higher. Recently Credit Help Cards announced a new approval system, which should raise approval rates even higher.
In today's society, a credit card can be an essential tool. In many financial negotiations or agreements, a credit card is required. Unfortunately, credit scores and other financial issues have made it nearly impossible for far too many people to be approved for quality credit card services. It takes a great effort and a little luck to build up a good credit score, but only a few small mistakes or misfortune to destroy a credit score. Luckily, Credit Help Cards is on the scene and approving more bad credit applicants than any other card provider.
To apply today, visit http://credithelpcards.com/.
About CHC
CHC is the leading credit card finance provider in USA fully dedicated to help its customers acquire a card regardless of past history. They design and develop customized for those with no, bad or even great credit. Voted the best for "Quality Customer Service; Best National CC Service" by thousands of people, their finance experts focus in providing its customers information and various tools available for different card offers, help them to choose the best that fits their goals and needs.