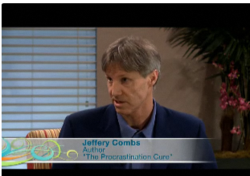 Los Angeles, CA (PRWEB) July 05, 2012
Jeffery Combs, Internationally recognized speaker, author, and trainer who has personally coached over 6,000 individuals worldwide, investing over 60,000 hours in assisting entrepreneurs to increase their profitability since 1998, will be hosting his highly acclaimed 'More Heart Than Talent' event this Saturday, July 7, 2012, in Los Angeles, CA, at the Sheraton Gateway Los Angeles Hotel from 9 a.m. - 4 p.m. This event is perfect for entrepreneurs seeking to break through barriers and have a profitable 2012. To register for this event, click here.
Jeffery Combs' "More Heart Than Talent" event training revolves around personal growth and development, cuts to the chase, and delivers information that makes an immediate impact on your success. During this special workshop, Jeff will be presenting new information from his 10-CD audio series Confessions of A Recovering Procrastinator to assist you to create the income you desire now.
"Very few books are written on the subject of procrastination," says Jeffery Combs, founder and President of Golden Mastermind Seminars Inc. "Therefore, I wanted to tackle the disease, or addiction, that plagues just about everyone in this country. My book will not only reveal the source of procrastination, but also provide the seven steps to recovering from it."
Jeffery Combs was recently interviewed on the TV Show "The Balancing Act" which aired on Lifetime Television, about his book "The Procrastination Cure."
The investment for the More Heart Than Talent workshop on Saturday, July 7, 2012 at the Sheraton Gateway Los Angeles Hotel is only $20.00. To register, simply call 1-800-595-6632 or visit http://goldenmastermind.com/mhtt-LA