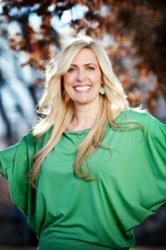 Boulder, CO (PRWEB) February 05, 2013
Spiritual Healer and Psychotherapist, Heather Hans, reveals five ways to have more love in your life this Valentine's Day season. "Love is limitless, but you must be willing to take small steps and open your heart and eyes to it if you want to experience more love in your life," says Hans.
1. Look everyone you encounter in the eyes and show your appreciation for them. When you do this, you acknowledge the connectedness of all souls. It's a way of telling someone that they matter and are worthy. It also tells them that you matter. Attention equals love. When you give someone love, it comes back to you.
2. Smile. The reason we often don't smile at others is fear that they won't smile back, which is a fear of rejection. Fear is the opposite of love so in order to experience love, we must do things even when we are fearful about doing them.
3. Find a way to spend time with a child, an elder, or both at least once a week. If you have a child, this is easy. If not, volunteer. America's individualistic values prevent the natural occurrence of regular contact with children and elders that comes naturally in community-oriented cultures. According to Heather, "really young and really old people are closer to the source, so they have less of a filter when it comes to love and vulnerability. It's us middle-agers who are crusty and most removed from true love."
4. Listen to uplifting and motivating music. Research consistently shows that music improves mood and has multiple health benefits. Different types of music have different effects, so choose your music wisely.
5. Write down one thing you want in your life and then spend the rest of the day discovering the ways in which you already have it. The Journal of Social & Clinical Psychology has shown that gratitude increases love and produces more of what it is that you want.
For more information and updates on healing your life and growing into your fullest potential, like Heather on Facebook or follow her on Twitter.
About Heather Hans
Heather Hans, LSW, MSW, CPIC, MSBA is a Healer of Love, who teaches the world a new way of overcoming fear and suffering. She has the gift of being able to channel in pure divine loving energy to help you remember who you are and open your heart, so that you can heal your body, mind, and soul, and move forward. She leads therapeutic and educational workshops and serves clients in her private practice. For more information visit http://www.heatherhans.com/.