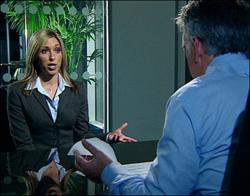 New York, NY (PRWEB) June 16, 2013
Jim Case Carlton's Training Solutions announced a new edition of the More Than A Gut Feeling training video. The economy has created a strong need to make cuts so corporations are trying to fill positions with exceptional people to both eliminate time from the hiring process and find people who can do ore than the job requires. Although this creates a fiercely competitive job market Jim Case Carlton's Training Solutions is confident a training video like More Than A Gut Feeling can help.
Love at first sight. A good feeling. A warm handshake. There are a lot of things in the world that have to be taken at face value. There is something about certain people that just get a stronger pull or feeling than others. And there is a reaction to this. When a potential new employee walks in the door they can bring with them a flood of emotions. She seems reliable. He reminds me of my brother, so I trust him. He looked me in the eye. Unfortunately, all these are gut reactions and can cost the company down the road.
More Than A Gut Feeling is such an equalizer in the interview process. This interview skills video is like Carfax or Equifax. It gets to the bottom line. Is this person qualified to do this job? Will they perform this job to the best of their ability? Are they the single greatest person for the job? The More Than A Gut Feeling video offers a more methodical approach to finding this person that goes well beyond an impression the employee left.
An interview skills video like this trains employees what things to look for and what questions to ask prospective employees. There aren't any tricks to the trade. The key is to guide the potential employee to areas they are comfortable and to explain situations from past employment that demonstrates what skills they hold behind their resume. How will they respond in a given situation?
The biggest obstacle isn't the interviewee but rather the interviewer. To fully get the grasp of this training video, employees are trained to let go of gut instinct, which is a very hard thing to do. Imagine 'feeling' someone is right for the job and just know they would do a good job, but everything in the interview logistics shows this is not the case. How will an interview skills video assist when the lesson is ignored? This is another important point the training video instructs managers to do.
Jim Case Carlton's Training Solutions incorporates the interview skills video More Than A Gut Feeling to assist companies with employee hiring. This training program substantially creates a mindset for managers to effectively interpret the best candidate for any position. To view the training video More Than A Gut Feeling or know more about this company, click here on their site Jim Case Carlton's Training Solutions.