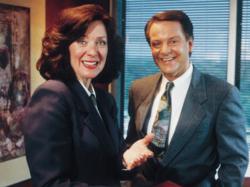 Vision is dandy, but sustainable company excellence comes from a huge stable of able managers.
New York, NY (PRWEB) November 25, 2012
Carlton's Training Solutions has presented new corporate training videos to industries all over the world, but More Than a Gut Feeling III is special. It's a program so popular that it has been remade three times now. Why? In this economy there are a couple of traits that businesses are looking for and have to have in an employee. Carlton's Training releases More Than a Gut Feeling III today.
The number one question these days is how to do more with less. This doesn't just extend to budgets but to personnel as well. Companies in the hiring process know that it is far better to pay one employee fifty-percent more than pay two equal salaries. Most people are doing the work of two or more people and need to be paid accordingly. So finding the best employee and an employee who can handle that kind of workload isn't easy.
More Than a Gut Feeling III tackles the difficult task of finding someone who is the perfect fit for an organization. But besides the regular resume, qualifications and general feeling about the prospective employee, this corporate training video attacks the situation from a behavioral standpoint. More than a Gut Feeling III sets a standard and protocol for assessing the behavioral traits of an employee to see if they match what the company is looking for.
Great companies know they need great people. And the interviewing process is crucial to attaining those people. The foremost authority on the hiring of great talent is Tom Peters. On the subject on how vital it is to find the right managers to lead orgasnizations, Tom Peters stated, "Vision is dandy, but sustainable company excellence comes from a huge stable of able managers."
About Carlton's Training Solutions
Carlton's Training Solutions is a corporate training video consulting firm who assists organizations in the areas of interviewing and hiring skills, harassment training, diversity training among other business training. The industries they assist range from healthcare companies, manufacturing businesses and fortune 500 organizations. They represent the great business minds of the century in Bob Farrell, Stephen Covey, Tom Peters and great leaders and personalities such as John Cleese, Lou Holtz, Dewitt Jones and Morris Massey to name a few. To learn more about Carlton's Training Solutions or interviewing skills click here at http://carltonstraining.com