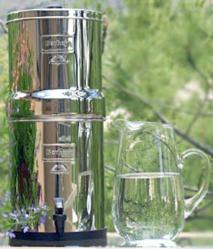 We like Berkey because it is simple to set up, extremely effective at purifying water, very inexpensive to maintain and comes in a variety of sizes and styles.
Linden, TN (PRWEB) June 22, 2011
Trust in the quality of city water just about anywhere in the US is continually declining. This is largely because of factory waste seepage, types of mining and new discoveries of the health risk of previously accepted substances such as chlorine. Most city water reports list areas of testing and claim they are "within acceptable limits." This is based on present research. But doubts increase as to just what is really safe for us to ingest. The EPA sets standards for about ninety different contaminants, but over 2100 different toxins have been identified in drinking water. For example, we are only beginning to understand the dangers of heavy metals in our water systems. As a result of all this, more and more Americans are buying bottled water or filtering their drinking water. The founders of MoreThanAlive.com grew concerned for their personal well-being and after finding a fantastic solution - the Berkey Water Filter, decided to make it available to others.
A shocking report in Reader's Digest a few years ago brought to public attention the fact that bottled water is, in most states, an unregulated industry. As a result, some major companies have admitted to legally bottling faucet water and then labeling the bottles in a way that implies the water has been filtered.
Because of this deception, the cost (bottled water costs more than gasoline!), and the landfill problem of plastic bottles, many are turning from bottled water to home filtration systems.
To meet this need, the founders of MoreThanAlive.com examined many of the products available to filter water. Some were very expensive, while others didn't do a good job or required a plumber to install. They finally settled on offering and promoting the Berkey Water Filter. This system was chosen because it was reasonably priced, simple to operate, and effective.
Most people do not want all substances removed from their water. If they do, they purchase distilled water or buy their own distiller. But distilled water is tasteless, and some of the substances removed, such as minerals, are good for us. People do, however, want sediment, heavy metals, and especially bacteria removed.
More Than Alive discovered that most of the pathogenic bacteria, heavy metals, fertilizers, and volatile organic compounds will be removed with a simple charcoal filter through a process called adsorption. As the polluted water passes through the activated charcoal, the particles are attracted to the carbon. Only clean water passes through.
"The list of contaminants removed from the water was so impressive, we knew this is what we wanted for our family," said Joy Robles, co-founder of MoreThanAlive.com. "And if we wanted it for our family, we were sure other families would want to safeguard their health in the same way."
But why Berkey? "We like Berkey because it is simple to set up, extremely effective at purifying water, very inexpensive to maintain and comes in a variety of sizes and styles," Robles shared. The Berkey filter consists of one container resting on top of another. The top container has mounted into it two or more activated charcoal filter rods. It is filled with faucet or well water. The only way the water can get into the bottom container is by passing through the filter rods by means of gravity. Once through, the water in the bottom container has been cleaned and is ready to be dispensed.
"Because the Berkey unit does not need electricity, the Berkey filter is very portable. It can even be taken camping," Robles states. "Our family uses the Berkey Light and only drinks Berkey filtered water. It gives me as a mother peace of mind to know that both we and our children are drinking safe, clean water."
For additional information on the Royal Berkey, other Berkey Water Filter models or the bulk herbs More Than Alive provides, contact Elma or visit http://www.morethanalive.com/Berkey_Water_Filters.
About More Than Alive:
More Than Alive is committed to offering the highest quality service and up to date information and products for healthier living, including bulk herbs, bulk foods, Berkey Water Filters, essential oils, and more.
Contact:
Elma
More Than Alive
800-516-5911
###