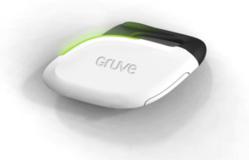 As a doctor, I can tell you that for most people it is increasing daily activity, not strenuous exercise that leads to sustainable weight loss
Minneapolis, MN (PRWEB) February 26, 2013
The Gruve®, a core solution from Gruve Technologies, Inc., a leading provider of scientifically-proven health and weight loss products, is helping people achieve sustainable weight loss as reported in an independent case study featured in the February 2013 issue of MORE Magazine.
The case study describes how a Gruve user lost almost 20 pounds in four months. The user's success came from reaching her personal (non-exercise) activity goals by increasing and tracking her everyday activity. She made lifestyle changes such as moving a few extra minutes every hour, bouncing while in a chair, and taking easy 15-minute walks outdoors.
The Gruve is centered on the concept of non-exercise activity thermogenesis, known as N.E.A.T. for short. N.E.A.T. is all the calories one burns while doing normal daily activity. James Levine, MD, PhD, a professor of medicine at the Mayo Clinic in Rochester, and the medical researcher who discovered the landmark N.E.A.T concept, says that an average person can boost their energy expenditure by about 350 calories, just by standing more throughout the day instead of sitting.
Research found that increasing the N.E.A.T in daily life can result in sustainable weight loss. The Gruve solution provides a personalized plan for the user that is calibrated to the user's specific metabolism and habits. The sensitive device captures up to 98% of daily activity and has three forms of feedback to keep the users on track—color changing calorie burn status lights, vibration to remind the users to move, and interactive website visuals. These physical cues help the users to modify their behavior over time and provides a sustainable path to weight reduction, maintenance, and improved health.
"We are happy that people are becoming more aware of the health benefits of N.E.A.T.," says Dr. Robert Gauthier, CEO, Gruve Technologies, Inc. "As a doctor, I can tell you that for most people it is increasing daily activity, not strenuous exercise that leads to sustainable weight loss and better health. The Gruve helps people change their behavior to healthy habits that can be maintained long-term."
About Gruve Technologies, Inc.
Gruve Technologies, Inc. provides scientifically validated weight loss and wellness products designed to provide a long-term sustainable path to better health. Headquartered in Minneapolis, MN, Gruve develops innovative technology and products based on cutting edge medical research that are proven effective to modify behavior and aid in weight loss. For more information, visit http://www.gruvetechnologies.com.