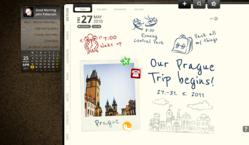 We want 2012 to be all about simplifying the way people keep organized, to give them more time to enjoy life.
San Francisco, CA (PRWEB) December 07, 2011
Moredays (http://www.moredays.com), the web's first time-management application based on images and graphics, has announced today its public beta launch.
Moredays provides users with an effortless way to manage tasks, events, notes and contacts, and create a visually appealing calendar, enriched with images and sketches. With the public beta launch, the company also announced new beta features including Google Calendar and Google Contacts synchronization, as well as new stamps, sketches and backgrounds.
Future beta upgrades will include iPhone and iPad apps by the end of the year; then Android and Windows Phone 7 apps early in 2012; social networks support; sharing; video support and much more.
To celebrate 10,000 users who helped improve Moredays since the company first entered the market at TechCrunch Disrupt 2011 SF in September, the company will give away an iPad 2 to one random existing user.
Furthermore, any new user who signs up for a Moredays account at http://www.moredays.com is automatically entered to win one of the following prizes: a Livescribe, a Jawbone UP wristband or one of two Amazon.com gift certificates valued at $100 USD each.
"Moredays wants to encourage users to start enhancing their life stream with beautiful images and clear information. We want 2012 to be all about simplifying the way people keep organized, to give them more time to enjoy life. We also want everyone to try our app and we're excited to give away other fun gadgets that can be used by anyone to record their daily activities," said Filip Molcan, Moredays' co-founder and CEO.
On January 15, 2012 a Moredays administrator will select the winners in a random drawing from among all eligible Sweepstakes entries received. The winners will be notified via email, and announced on Moredays' Facebook wall (http://www.facebook.com/moredays), Twitter (@moredayscom) and via the company's official blog.
About Moredays:
Launched September 2011 at TechCrunch Disrupt 2011 SF, San Francisco-based Moredays is a free online organizer, diary and scrapbook, based on photos and drawings. Moredays helps users organize tasks, calendar, contacts, notes and photos, as well as share all great memories with peers - all in one app. Users can access Moredays from any device with Internet connection, and can easily track all their activities with Sketcher, Moredays' intuitive calendar. Moredays is currently in public beta, and is available at http://www.moredays.com.
###