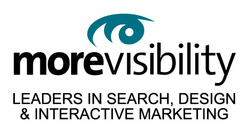 Company Pages are an outstanding tool for all businesses regardless of size...
Boca Raton, FL (PRWEB) November 16, 2010
MoreVisibility, a leading search engine marketing, optimization, web design and social media agency, today announced that it was one among a select group of companies that participated in a pilot launch of LinkedIn's Company Pages, a powerful new tool to help businesses drive business growth via professional product recommendations.
The new enhancement to its Company Pages was announced by LinkedIn at their annual customer event Connect:10 in New York City on Nov 2nd. Danielle C. Leitch, executive vice president of Client Services for MoreVisibility, attended the event, along with other charter customers of the program.
LinkedIn's Company Pages are designed to help businesses build confidence in their brands, products and services using trusted, professional recommendations. "Company Pages are an outstanding tool for all businesses, regardless of size and there is no fee associated with it," said Leitch. "This new feature makes LinkedIn even more productive for companies, offering a robust opportunity to showcase products and services, while gaining recommendations from customers and showcasing them to prospects. Now we are able to leverage this great marketing communications tool on behalf of our clients to help them grow their businesses through word-of-mouth recommendations".
Company Pages help bring a brand to life by showcasing its standout products and company culture on LinkedIn, an environment where millions of professionals make critical business decisions every day. Empowering customers and employees to become brand ambassadors, Company Pages help grow a company's business virally through word-of-mouth, the most trusted form of advertising. At the same time, business professionals can write such endorsements to build out their personal brands, highlight their expertise in a given field and provide additional value to their professional connections.
About MoreVisibility
Founded in 1999, MoreVisibility is one of the world's leading Search Engine Marketing, Optimization and Design firms, having helped hundreds of Fortune 1000 companies and small businesses increase qualified traffic to their Web sites. In 2005, 2006, 2007, 2008, 2009 and 2010 MoreVisibility was named to the Inc 500/Inc 5000 list of the nation's fastest growing privately owned firms. MoreVisibility is a Google AdWords Certified Partner, Google Analytics Certified Partner and a member of the MSN Search Council.
MoreVisibility boasts high client retention through a team of 35 senior professionals who deliver superior performance and measurable results. Notable clients served include Direct Marketing Association (DMA), Children's Hospital of Philadelphia, The Metropolitan Museum of Art, Dairy Council of California, RSM McGladrey, The Mayo Clinic, Travel Nevada, Ritz Carlton Residential Suites and Clemson University. The company is based in Boca Raton, Fla., and can be found on the web at http://www.MoreVisibility.com.
###