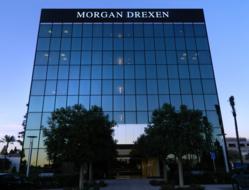 "We decided to create the 'MD News Minute' to showcase the marvelous work being done by all the charity groups we support," said Morgan Drexen CEO Walter Ledda.
Costa Mesa, CA (PRWEB) December 05, 2012
Morgan Drexen Integrated Systems is expanding its video production platform with the launch of the "MD News Minute," a segment that will highlight worthy causes supported by the company.
The first MD News Minute will air nationally on WE tv's paid programming block Thursday, December 6, 2012, at 8 am ET, during a half-hour promotional segment sponsored by Morgan Drexen. (http://morgandrexen.com)
The inaugural MD News Minute will showcase "Operation Smile," a charity group that provides free surgery for children around the globe suffering from facial deformities. The organization recently held its star-studded 30th Anniversary "Smile Gala" at the Beverly Hilton Hotel in Beverly Hills, CA.
Morgan Drexen Spokesperson Karen Carlson, a former television news reporter and anchor, interviewed celebrities and event organizers from a prime spot along the red carpet.
"It was such an exciting and worthwhile event," says Carlson. "We started brainstorming all the ways we could publicize this important cause and we thought the MD News Minute was the perfect opportunity."
The feature segment on the "Smile Gala" includes interviews with celebrities Brooke Burke-Charvet, Craig T. Nelson and Tom Bergeron, all of whom have contributed time and money to the cause. Morgan Drexen Chairman and CEO Walter Ledda, himself a supporter of a variety of charitable causes, also had the opportunity to walk the red carpet.
"This event was fun, but was also important and deserves to have a big spotlight," says Ledda. "Operation Smile gives children a second chance at life, which is one of the driving principles behind what we do at Morgan Drexen. We decided to create the 'MD News Minute' to showcase the marvelous work being done by all the charity groups we support."
Future "MD News Minute" segments will continue to highlight special events and non-profit groups supported by Morgan Drexen. The company currently partners with nearly a dozen charities, both locally and nationally, including Make-A-Wish®, Big Brothers Big Sisters, and the American Red Cross.
All Morgan Drexen video segments are shot, written and produced by the company's in-house video production team. The department utilizes high-definition video cameras, four desktop editing suites, and an in-house studio featuring a chroma key (green screen) for video shoots. Morgan Drexen regularly produces video segments focusing on key financial issues facing many Americans. These videos can be seen on the company's website as well as the Morgan Drexen YouTube Channel. The production team also produces video stories and profiles for more than 100 attorneys nationwide.
Based out of Costa Mesa, California, Morgan Drexen provides back-office support services, along with advanced automated software, for attorneys across the United States. These services help law firms boost efficiency and reduce costs, allowing attorneys to focus on their clients and keep fees affordable.