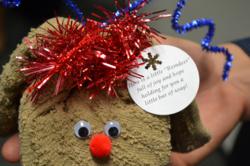 "Our food drive exceeded everyone's expectations, and to see the way people responded to the 'Charity Tree' challenge is truly heartwarming," said Morgan Drexen CEO Walter Ledda
Costa Mesa, CA (PRWEB) December 29, 2012
This time around, the second floor could not be beat. Just weeks after a competition to collect food donations for the Orange County Rescue Mission, Morgan Drexen (http://morgandrexen.com) issued another challenge to employees: decorate the Christmas trees on every floor with items that would benefit needy families, especially children.
Workers on the second floor of the company's five-story Costa Mesa headquarters responded in impressive fashion. Focused on the theme of "Keeping the Kids Warm," they blanketed their tree with fun and functional items including gloves, socks, slippers, hats, and blankets. One employee got extra creative by wrapping washcloths around bars of soap and decorating them to look like reindeer. All items collected in the contest were delivered directly to the Orange County Rescue Mission.
"Our employees did it again," says Walter Ledda, Morgan Drexen CEO. "Our food drive exceeded everyone's expectations, and to see the way people responded to the 'Charity Tree' challenge is truly heartwarming."
Officials at the Orange County Rescue Mission received the donations with open arms.
"People are so generous during the holiday season," said Carol Urton, Major Gifts Officer at OCRM. "We've had a lot of donations of clothing, food, toys for the kids, toys for our guests. So we've been overwhelmed with the generosity of the community, and by the great gifts that you've brought today, just a wonderful donation."
Workers from every department and every floor donated items to benefit the kids. It was a similar story back in November, when Morgan Drexen collected more than 2,100 pounds of food to benefit the Rescue Mission. In that challenge, workers on the fourth floor collected the most food and were crowned honorary "Food Drive Champions."
"We were in it to win it!" joked Morgan Drexen Human Resources Manager Dina Iglesias, whose office is located on the second floor. "I think we're all just really glad to contribute and take some time out of our busy day to put something like this together."
The Orange County Rescue Mission is urging people not to forget them after the holidays, when donations often fall off dramatically. For more information about donating to OCRM, visit http://www.rescuemission.org.
Morgan Drexen strives to be a positive force in the community, both locally and nationally. The company partners with nearly a dozen distinguished charities including Make-a-Wish(r), Big Brothers Big Sisters, CHOC Children's, the American Red Cross and the American Cancer Society. To learn more about the company's charitable efforts visit http://www.morgandrexen.org.
Morgan Drexen provides back-office and paralegal support services for attorneys across the United States. Based in Costa Mesa, CA, the company supports more than 100-attorneys nationwide.