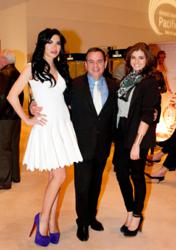 "It makes successes out of children. When I was ten years old I started playing the violin. I would say anything I was ever able to accomplish I was able to attribute back to music in some way," said Morgan Drexen CEO Walter Ledda.
Costa Mesa, CA (PRWEB) February 19, 2013
Who knew Kenny G rocked out to heavy metal? The Grammy Award-winning jazz legend made that interesting revelation prior to his sold-out performance with Pacific Symphony at the Segerstrom Concert Hall in Costa Mesa Friday, February 15. Morgan Drexen (http://morgandrexen.com) orchestrated the red carpet festivities to raise awareness for Pacific Symphony and its efforts to boost appreciation and support for classical music in Orange County. Morgan Drexen CEO Walter Ledda, himself a classically-trained violinist, was recently appointed to the Pacific Symphony marketing committee. Those who walked the red carpet included pop singer Rebecca Black, "Glee" star Iqbal Theba, singer and actress Andrea Marcovicci, and "Real Housewives of Orange County" stars Gretchen Rossi and Slade Smiley.
"The thing about classical music is that everybody on stage has spent their whole life learning an instrument," said Kenny. "I know what it's like. I've been practicing my saxophone for about 45 years now! It's just great to go see musicians that really practice their instruments and care about playing their instruments well. The music is so beautiful. I think it's breathtaking. I love watching live musicians really play. Young people like classical music, I like classical music. I like jazz of course. I like heavy metal music! I like a lot of kind of music."
Ledda also talked about his lifelong love affair with classical music.
"It makes successes out of children, like myself, when I was just 10 years old!" said Ledda. "I studied violin for ten years. I would say anything I was ever able to accomplish I was able to attribute back to music in some way."
Rebecca Black, who recently appeared in a music video with Katy Perry and Kenny G, said younger generations would be well-served to add classical music to their pop diet.
"It's important, not only in Orange County, but everywhere," said Black, an Orange County native. "Especially kids that want to get into a career in music, you can't just know about what's current. You need to learn about the history of music and how it developed. I feel it makes you a better artist and a better person."
Pacific Symphony offers a variety of programs designed to integrate the Symphony and its music into the Orange County community. Through these programs, the Symphony reaches nearly 50,000 Orange County residents annually.
"Pacific Symphony is unique," said Michael Kerr, Executive Vice Chair of Pacific Symphony. "In the United States, we give a higher percentage of our budget to education than any other orchestra in the country."
Morgan Drexen is planning future red carpet events with Pacific Symphony in hopes of expanding its reach in Orange County and inspiring new generations of classical musicians. Based out of Costa Mesa, CA, Morgan Drexen provides paralegal, paraprofessional and software support services to attorneys across the United States.