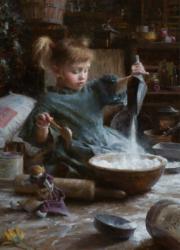 'Flour Child' features Morgan Weistling's daughter nestled among various antique baking utensils dusted with flour.
San Francisco, CA (PRWEB) September 08, 2011
World Wide Art, Inc., a renowned art gallery and custom conservation framing company in the San Francisco area, is pleased to announce the availability of Morgan Weistling's newest released masterpiece, "Flour Child."
Weistling's painting, like so many of his pieces, was inspired by his limitless fascination with the imaginations of children. While sitting his own daughter upon the kitchen floor one day to play amongst baking supplies, including flour, he simply knew that something magical would happen. Capturing her subtle nuances and created with his signature strokes, "Flour Child" is sure to inspire the imaginations and playful nature of all.
"This latest painting by Weistling is an exciting new release for us to offer to our customers," said David Wilfong, spokesperson for World-Wide-Art.com. "His multi-award winning paintings are often bid over with frenzy and sell very quickly. World Wide Art strives to bring the public paintings that are in high demand and that inspire them."
"Flour Child" features the artist's daughter nestled among various antique baking utensils dusted with flour. While she sprinkles the flour back into a large wooden bowl, Weistling sprinkles imagination into the ordinary and everyday play of a child's world.
He brings a story to life that touches the viewer's heart.
With his incredible talent to use oils, Weistling has created a dreamlike image that ignites emotion with sentimentality, while making subtle impressions with colors, shades and lighting. He deliberately paints suggestions of form that are minutely noticed to ignite the viewer's imagination and sense of wonder.
Weistling has had an impressive career as an artist with his timeless paintings, having become extremely popular over the last decade in particular. His latest release with "Flour Child" is another extraordinary example of his highly acclaimed work.
"This piece offers our customers more than just a popular painting for the wall," said Wilfong. "Weistling provides them opportunities to indulge in their own imagination and wonder. World-Wide-Art.com is passionate about creating an experience that keeps the love of art alive and thriving above fireplaces across the world."
In addition to Weistling's "Flour Child" painting, World Wide Art offers countless other new releases, limited editions and honored collections by today's top artists. World Wide Art employees, besides being trained for their specific jobs, are art collectors, artists, professional framers and, most importantly, people who truly love what they do. It's not just a job at World Wide Art: it is a way of life. For more information on the company or to view "Flour Child," visit http://www.world-wide-art.com.
###