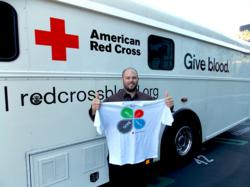 I want to ensure I can save someone else's life in their time of need.
Costa Mesa, CA (PRWEB) July 20, 2012
So many people at Morgan Drexen wanted to donate blood to the Red Cross, the organization had to bring a bigger truck.
"When we found out we had 45 people sign up who wanted to give blood, the Red Cross representative had to reschedule the bloodmobile to bring in the super-sized version," said Morgan Drexen CEO Walter Ledda.
The American Red Cross asked the public for help this summer, reporting blood donations are the lowest they've been in 15 years.
For Michael McDonald, a petition processor at the legal support services company, his motivation was personal.
"Blood transfusions have saved a family member of mine before. Right there, I found out the importance of donating blood," he said.
"I want to ensure I can save someone else's life in their time of need."
The Red Cross started publicly asking for additional blood donations in late June, which it reports briefly stopped the decline in donations. But Red Cross spokesperson Nick Samaniego says the effect was "temporary and the situation remains tenuous." The organization is asking for people to recruit at least two more donors, hoping that effort will ensure an adequate blood supply for the rest of the summer.
"We do what we can to help the community," said Ledda.
"Our company has an ethic of 'Community and Charity', and that's why we make a concerted effort to have our employees give back to those around us," he said.
Morgan Drexen is based in Costa Mesa, and provides software and administrative support to attorneys across America. The business recently celebrated its fifth anniversary and employs more than 325 people.