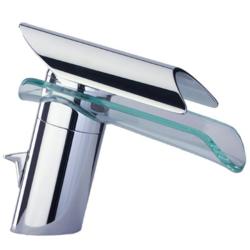 New decorating ideas bring fresh decorating styles in kitchens and bathrooms, including faucets with new, sleek designs
Aiken, SC (PRWEB) November 29, 2012
New decorating ideas bring fresh decorating styles in kitchens and bathrooms, including faucets with new, sleek designs. One such a line offered by Warehouse USA is LaToscana Morgana, a collection of faucets in a modern minimalistic style. However, the faucets are not limited to households that have decorated their interior with predominantly modern appliances. Morgana faucets are the most recognized by their frosted glass or wenge wood look water fall spouts. The special design of the spout adds a hint of serenity when water runs its course slowly through the clean curve of the spout. The entire body of LaToscana Morgana faucets are made out of solid brass (except the spouts), which ensures a long corrosion free life of the core material.
Morgana has products fit for the entire bathroom: lavatory single and double handle faucets, vessel fillers, shower only, shower and tub faucets and finally roman tub faucets.
The widespread lavatory faucets with the frosted glass spout come in two finishes: 73CR214VR chrome and 73PW214VR brushed nickel. The handles of this faucet are set at 8" center (8" from the center of one handle to the center of the other), the spout is 7" tall at its highest point. The faucet comes with a pull-out rod on the back of its body and a metal pop-up drain.
Another version of the widespread lavatory faucet is 73PW214LZ brushed nickel finish with wenge wood spout, all other characteristics are identical with the model above.
The vessel fillers are also available with two types of spout: wenge wood and frosted glass.
The models 73CR205VRL chrome and 73PW205VRL brushed nickel are almost 14" tall with a 10" clearance under the spout which gives ample room for a vessel. 7⁰ inclination of the faucet body and of the spout creates enough slope for a gentle water flow. 73PW205LZL is a version of the same faucet with the wenge wood spout in brushed nickel finish.
The last faucets in the lavatory series are models 73CR211VR chrome, 73PW211VR brushed nickel with frosted glass spout, and 73PW211LZ with the wenge wood spout in brushed nickel finish. These faucets are inclined by 7⁰ like all others in the Morgana series. They are single handle and single post mount. The faucets are 7" tall at the highest point and they have slightly over 2" of clearance between the counter top and the bottom of the spout. One handle operation makes it easy to set up the water flow and its temperature with one hand motion.
All LaToscana Morgana are now available at Warehouse USA – http://warehouse-usa.com; they are on sale with free shipping throughout 48 contiguous states. For more technical information or if in doubt please don't hesitate to call 888-693-8066.