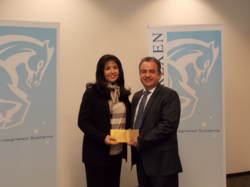 "It's fitting and ironic as Ken loved the outdoors and nature, however he had the opposite of a green thumb when it came to gardening," jokes Harvey-Jones. "I know Ken will be there always shinning down on it and helping it grow."
Costa Mesa, CA (PRWEB) May 02, 2012
They say the sun always shines in Southern California so who needs a weatherman? Costa Mesa-based Morgan Drexen prides itself on working with the local community and in just two years of philanthropic initiatives has raised over $16,000 and pledged an additional $25,000 to CHOC. The driving force behind Morgan Drexen has been the Media and Corporate Relations team implemented by Raychel Harvey-Jones.
In late March, Harvey-Jones was given the heartbreaking news that her husband had passed away in a tragic accident while at home. Kenneth Reeves was an admired and passionate meteorologist who worked tirelessly to automate weather systems at his employment of 29 years Pennsylvania-based AccuWeather The couple shared their home in Costa Mesa after relocating to the region for Harvey-Jones to take the new position at Morgan Drexen in 2010. They were recently married in October 2011.
"Ken was always a part of the Morgan Drexen family, he was present at every charity event and always such a joy to be around. He had an amazingly positive outlook on life and supported both Raychel and Morgan Drexen in all our philanthropic efforts. On hearing this tragic news I wanted to give back to this man, who although was not an employee of the company, was a very integral part of the Morgan Drexen family," says CEO and Founder of Walter Ledda.
"Our entire company is in shock and mourning for Raychel and her loss. When I joined the company in 2011 Ken was the third wheel in our department. He was always there with his contagious laugh helping out," says Media and Corporate Relations Coordinator Charla Batey. "All we could ask ourselves was what can we do? How can we help?"
With a known passion for CHOC and philanthropy in general Morgan Drexen, guided by Ledda, decided that a memorial within the new CHOC hospital was a fitting gesture.
"Wow, I am so lucky to be part of a company that cares, I am touched do deeply by this gesture and I am so excited to support CHOC on the opening of the new tower in 2013 and see the memorial donated by Morgan Drexen. I have worked for and collaborated very closely on many projects with Walter Ledda in the past 2 years and I have learned that this entrepreneur has a big heart. His employees are his family and I will always think of my colleagues at ]as my extended family," says Harvey-Jones.
The memorial chosen by Harvey-Jones will be a plotted tree, named for Reeves in the garden area of the CHOC tower, which is scheduled to open in Spring 2013.
"It's fitting and ironic as Ken loved the outdoors and nature, however he had the opposite of a green thumb when it came to gardening," jokes Harvey-Jones. "I know Ken will be there always shinning down on it and helping it grow."
For more information on CHOC Foundation visit: