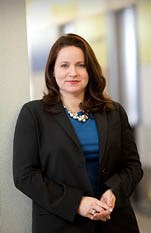 I look forward to collaborating with the other board members of this premier HR organization and contributing to its ongoing positive impact on the professional growth of its members.
McLean, VA (PRWEB) June 10, 2013
MorganFranklin Consulting, a leading business consulting and technology solutions company based in McLean, Va., and London, announced today that Vice President of Human Resources Ashley Baquié was elected to the HR Leadership Forum (HRLF) Board of Directors. HRLF is a collegial learning community of senior leaders building successful, healthy, and sustainable organizations by sharing leading-edge people strategies. The membership organization is comprised of greater Washington, D.C., metropolitan area senior HR professionals, learning organization executives, and organizational leaders responsible for managing human talent.
"I am honored to serve on the Board of Directors for the HR Leadership Forum, and I look forward to collaborating with the other board members of this premier HR organization and contributing to its ongoing positive impact on the professional growth of its members," said Baquié, who brings more than 15 years of experience in HR executive roles.
Through networking opportunities, social events, community activities, and monthly programs, HRLF presents strategic topics and speakers for the forward-looking professional in the areas of human resource management and organizational and leadership development.
Since joining MorganFranklin Consulting in 2009, Baquié has been responsible for all HR-related efforts, including providing strategic HR guidance to the company and developing effective programs in direct support of business goals and an optimum working environment for employees. She is also responsible for the firm's Administration, Corporate Social Responsibility, Facilities, and Security departments. Under her leadership, the firm has been recognized with numerous workplace excellence awards, including the Alliance for Workplace Excellence (AWE) Workplace Excellence Seal of Approval, Alfred P. Sloan Award for Excellence in Workplace Effectiveness and Flexibility, and Consulting magazine's "Best Firms to Work For" list.
Baquié possesses more than 24 years of business experience with technology, services, government contracting, and publishing companies. Throughout her career, she has impacted corporate performance through successful development, enhancement, and orchestration of HR processes and programs. She is credited with leading strategic initiatives, providing collaborative team-building skills, coaching and developing talent, growing revenues, and slashing expenditures through skillful allocation of human resources and creative, effective programs.
In 2011, the Human Resource Leadership Awards (HRLA) of Greater Washington presented Baquié with the prestigious "Leadership Award" (<1,000 employees) in recognition of her exemplary leadership and strategic vision. She was also a finalist for the HRLA "Mentoring Award," recognizing her dedicated support to the professional growth and development of HR and other professionals.
In addition to her involvement with HRLF, Baquié is a member of the Society for Human Resource Management (SHRM), WTPF – The Business Forum for HR Professionals, Human Resource Association National Capital Region (HRA-NCR), HR Leadership Council, Human Capital Institute (HCI), and HR People & Strategy (HRPS).
To learn more about the HR Leadership Forum, visit http://hrleadershipforum.org/.
# # #
About MorganFranklin Consulting
MorganFranklin Consulting is an international services firm that delivers business consulting and technology solutions to public companies, fast-growing private companies, and government clients. Since 1998, MorganFranklin professionals have provided business operations, financial advisory, and IT consulting expertise and assistance across a wide range of industries. The firm's solutions focus on helping clients develop and implement strategies and plans to manage growth, achieve compliance, and transform business operations. MorganFranklin has offices in Washington, D.C., Dallas, and London, and has supported clients in North and South America, Europe, and Asia.
In 2012, MorganFranklin was named to Consulting magazine's "Best Firms to Work For" list and the Inc. 500|5000 list of the fastest-growing private companies in America. Third-party customer satisfaction surveys highlight the company's reputation for being hands-on, flexible, and skilled at bringing diverse groups together to complete projects on time and within budget. To learn more about the company visit http://www.morganfranklin.com.
MorganFranklin Consulting is the brand name referring to the global organization of MorganFranklin Corporation and MorganFranklin Limited, a UK subsidiary serving as the EMEA headquarters of MorganFranklin Corporation.