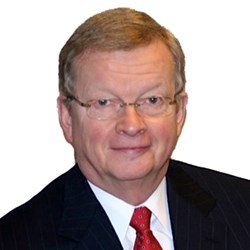 "We are fortunate to be able to leverage Richard's nearly 40 years of experience at General Motors, and ten years in private equity investing in automotive suppliers. This is truly a synergistic partnership.
Los Angeles, CA (PRWEB) November 05, 2013
Morgan Samuels, a leading human capital consulting firm with a focus on retained executive search, is pleased to announce the expansion of their automotive practice with the addition of Richard M. Donnelly, an automotive industry veteran, who will be joining the firm as an Advisor and will co-lead the practice with Martin Hewett, Senior Client Partner. Janice DiPietro, President of Morgan Samuels said, "We are fortunate to be able to leverage Richard's nearly 40 years of experience at General Motors, and ten years in private equity investing in automotive suppliers. This is truly a synergistic partnership. Richard was a pioneer in championing GM's Global LEAN Manufacturing System, and, more than a decade ago, Morgan Samuels adopted and has diligently applied LEAN/Six Sigma to the executive search process, allowing us to streamline the process, greatly improve the methods, eliminate waste and most importantly, consistently assure a high quality placement."
Morgan Samuels' automotive practice is unique – not only having a strong presence in Detroit and deep relationships into OEM's and suppliers, but also being at the intersection of traditional automotive and the west coast/Silicon Valley technology companies that are enhancing the connectivity, mobility, and energy-efficiency of tomorrow's vehicles. The firm's automotive clients include companies such as: Axalta (formerly DuPont Performance Coatings), Goodyear, Harman, Hughes Telematics, Hyundai Capital America, Oshkosh, and Uni-Select.
Mr. Donnelly brings with him broad global OEM and supplier experience in general management, international business, manufacturing, and product development. He also serves as the Non Executive Chairman of Oshkosh Corporation, a $7.5 billion global manufacturer of specialty trucks. Previously, Mr. Donnelly spent 38 years at General Motors. As President of General Motors Europe, he had P&L responsibility for GM's vehicle business in Europe with annual revenue of $25 billion and the number one market share for his four years. He extended GM's auto business into Central and Eastern Europe and served on the team that negotiated GM's first entry into China. Prior to Europe, he formed and was the first GM Group Vice President and Chief Executive Officer for GM's $12 billion (Global) Powertrain Group. Mr. Donnelly also led the team that developed GM's Global LEAN Manufacturing System. Mr. Donnelly has a BS in Electrical Engineering from Kettering University, an MBA from the State University of New York at Buffalo, and attended advanced management courses at Harvard's Graduate School of Business.
Mr. Hewett has been with Morgan Samuels for more than six years and has extensive international manufacturing and technology executive operating experience. Previously, he was CEO of Enterprise Solutions Limited, a secure messaging software company; President of Panorama Software Corporation, a firm he divested from Computer Associates at the time they acquired Legent Corporation where he had held several executive-level assignments; Vice President with Goal Systems International; President of Essential Software Corporation; and President and CEO at Porton Instruments Corporation. He was also previously a Partner at Heidrick & Struggles.
Mr. Donnelly stated, "The automobile is becoming a connected mobile platform for an ever expanding list of applications for Internet and vehicle-to-vehicle services. In addition to the connected possibilities, the vehicle industry has an urgent need for technology leaders to develop and implement clean, safe and efficient cars and trucks. With its own LEAN/Six Sigma process and extensive connections in aerospace, engineering, energy, digital media, telecommunications and mobile, and Silicon Valley companies, Morgan Samuels is uniquely positioned to be a key supplier of this specialized leadership talent for the industry. I am excited about partnering with Morgan Samuels to provide the leadership the automobile industry requires to grow and prosper."
About Morgan Samuels
Morgan Samuels is a leading human capital consulting firm, providing innovative and strategic services focused on identifying, attracting, and retaining top talent. With a focus on retained executive search, Morgan Samuels partners with clients to co-create the optimal human capital solution to drive future business objectives. Morgan Samuels mitigates risk for clients by being results driven, accountable, and transparent. Since 1969, the Firm has developed a reputation for building strong client relationships and for successfully recruiting exceptional candidates. Morgan Samuels has shifted the paradigm in executive search to unprecedented levels of quality through the use of revolutionary business process techniques based on Lean Six Sigma principles. This strategic and data-oriented approach ensures Morgan Samuels rapidly identifies, recruits, and places the best executive talent in the market for its clients, which include E&J Gallo, Capital One, BAE Systems, Inc, Samsung C&T, Edison International, and many other Fortune 500 companies. Morgan Samuels is a generalist firm, with practice areas across multiple industries, including Healthcare, Technology, Engineering and Construction, Financial Services, Aerospace and Defense, Digital Media, Private Equity, and Consumer Products.