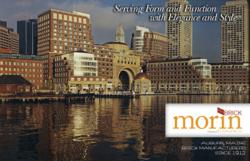 Morin "now stands poised to produce new generations of sustainable cityscapes."
(PRWEB) November 01, 2012
Maine's sole surviving brick making company, Morin Brick Company are celebrating their 100 years in business with a look back on their recognizable architecture throughout the Northeast as highlighted in the national trade publication Ceramic Industry Magazine. This feature, written by the managing editor, notes that three years after receiving a new infusion of capital from multi-family property real estate company R.J. Finlay & Co., Morin "now stands poised to produce new generations of sustainable cityscapes."
Morin Brick Company was started during a time when horses shared part of the work load and before railroads brought additional business opportunities. By building such sustainable architecture, Morin's contributions remain well known today in major cities like Boston, MA.
According to R.J. Finlay & Co. CEO Robert Finlay, "We knew this was a special company with a long and proud history when we approached them. The projects they've completed and the artistry they've continued to turn out are nothing short of remarkable."
Morin's most recent projects include a classroom building at Derry, NH's historic Pinkerton Academy; a large, new high school in Keene, NH; Concord Hospital; new construction at Dartmouth College; the Portsmouth Naval Shipyard's recent expansion; a new business school at the University of New Hampshire; and new student housing at the University of Connecticut. In 2010, Morin received a gold medal from the Brick Industry Association's Brick in Architecture Awards – the industry's top recognition – for the prominent placement of its waterstruck product in a stunning new residence hall at Worcester (MA) Polytechnic Institute.
Ceramic Industry magazine covers the ceramic, glass and brick industries with news, issues and trends and supplies a forum for information exchange.
R.J. Finlay & Co. is a New Hampshire-based holding company of diverse businesses and investments with a central focus on real estate. For more information, please visit http://www.rjfinlay.com.