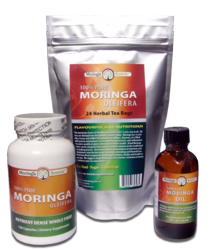 Dr. Oz calls Moringa oleifera an 'energy blaster' and recommends a daily regimen of capsules or tea.
Newtown, CT (PRWEB) April 16, 2012
On Friday, April 13, "The Dr. Oz Show" featured the benefits of the Moringa oleifera plant highlighting its extreme energy enhancing and anti-oxidant qualities. The Moringa products on "The Dr. Oz Show" were provided by Moringa Source, the premiere company dedicated exclusively to natural Moringa nutritional supplements, beauty products and tea. Calling it an "energy blaster," Dr. Oz recommends taking Moringa oleifera capsules or teas daily.
Moringa oleifera's naturally occurring nutrients, anti-oxidant and anti-inflammatory compounds, such as those found in the Moringa tea and capsules featured by Dr. Oz, offer unique anti-aging and energy-enhancing characteristics. The benefits of this "super plant" have been embraced as one of nature's most powerful sources of nutrients to support healthy living in the Far East for more than 2,000 years. Like Dr. Oz, health and wellness experts in the U.S. and in Europe have recently begun recommending Moringa oleifera for sustained energy and general wellness.
"It is our mission to make the incredible benefits of Moringa accessible to families across the U.S. and the world," said Jim Fitzpatrick, co-founder of Moringa Source. "Moringa Source is proud to offer a comprehensive line of 100% natural Moringa products, designed to balance and improve the body's cognitive, neurological and physical well-being."
Rich in antioxidants and over 90 nutrients such as vitamins, proteins, amino acids, iron and calcium, Moringa oleifera supports increased energy and flexibility; focus and mental clarity; digestive regulation; support for a healthy immune system; cell strengthening and restoration; stabilization of blood sugar levels; improved memory and sensory perception; more restful, restorative sleep cycles; improved emotional balance; reparation of skin elasticity to reverse the signs of aging; faster recovery from physical strain and ailments; and a natural superfood boost for pregnant women, breastfeeding mothers and their babies.
Moringa has been used as a natural alternative to support blood sugar regulation in diabetics, increase joint mobility experienced from arthritis, improve blood pressure levels that contribute to a variety of diseases, and increase cellular restoration important for those diagnosed or at high risk for cancer. Moringa is a raw food and is naturally vegan, caffeine-free and gluten-free. The World Health Organization and other charitable organizations currently use Moringa as a basis for daily nutritional programs helping malnourished children.
Moringa Source is sold in more than 30 countries, reaching across six continents. Moringa Source offers a variety of natural Moringa products including Moringa nutritional supplement capsules, Moringa tea, Moringa leaf powder, Moringa oil and Moringa body butter. Moringa Source products can be purchased online at MoringaSource.com.
To view a clip from "The Dr. Oz Show" explaining the benefits of Moringa, and to learn more about Moringa oleifera and Moringa Source nutritional supplements and products, visit MoringaSource.com.
Consult with your physician and visit http://www.moringasource.com/disclaimer.php before using Moringa products.
About Moringa Source:
Moringa Source is the premiere resource for Moringa oleifera products. The largest company exclusively dedicated to 100% natural Moringa products, Moringa Source offers a comprehensive line of nutritional supplements designed to balance and improve the body's cognitive, neurological and physical well-being.
Moringa Source is committed to eco-friendly practices, growing Moringa oleifera trees on sustainable farms in countries known traditionally to have rich crops with high nutritional levels in Africa, India and Central America. Harvested by hand and vacuum packaged to preserve the highest nutritional value, Moringa Source delivers naturally vegan, caffeine-free and gluten-free products with health benefits for the whole family.
For information on Moringa Source, visit http://www.moringasource.com and follow Moringa Source on Facebook.
For more information about Moringa Source please contact a press representative.
Press Contacts:
Jodi Patkin / Erin Stieglitz
Steel Peach Communications
Jodi(at)SteelPeachCommunications(dot)com /
Erin(at)SteelPeachCommunications(dot)com
847-721-8115 / 404-593-1162
Follow Moringa Source on Facebook.