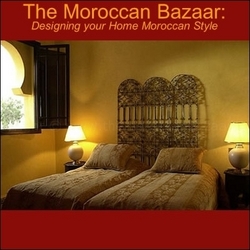 Moroccan furniture and decor is more popular then ever and The Moroccan Bazaar is committed to leading the industry with the best customer service
Dallas (PRWEB) September 22, 2008
Moroccan furniture and home decor retailer, The Moroccan Bazaar, is preparing for the upcoming Christmas season by launching its new website on October 15, 2008. The Moroccan import store specializes in handmade Moroccan furniture and home decor crafted by master artisans, including items such as home lighting, cookware, henna lamps, candles, jewelery, and rugs.
The leading retailer of Moroccan furnishings, the Moroccan Bazaar is now partnering with Dallas-based SEO 1 Services to engineer the launch of the new website. The new SEO friendly web design is intended to increase both user friendly experience as well as increase the online visibility. The new Moroccan furniture site should achieve better search engine rankings.
The Moroccan Bazaar, based in Dallas, TX, has been offering furnishings for homes, hotels, and restaurants since 1997 and currently employs twenty artisans who create the items offered by the online retailer.
"Moroccan furniture and decor is more popular then ever and The Moroccan Bazaar is committed to leading the industry with the best customer service" says Karim Amrani of the Moroccan Bazaar. 'We will be offering some really unique and beautiful items crafted by our artisans that I'm certain our customers will love. And we're grateful to SEO 1 Services for putting together a great website in time for the Christmas holidays'.
The Moroccan Bazaar chose SEO 1 Services to manage the website launch because of the company's expertise in organic Search Engine Marketing (SEM) strategies. The retailer is relying on SEO Services to increase the visibility of the website and to use improved customer/company interface to attract new customers, particularly in time for shoppers who may be looking for unique holiday gifts.
About The Moroccan Bazaar: Founded in Tangier, Morocco in 1990, The Moroccan Bazaar moved it operations to Dallas, Texas in 2000 to introduce its product line to the US Market and to support the handmade Moroccan decor industry, its artisans and their uncertain future due to the proliferation of cheap Chinese imitations.
###