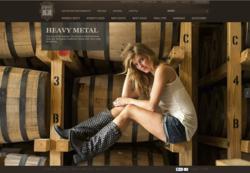 We are thrilled to expand our relationship with The Frye Company by reinforcing the world-class eCommerce experience crafted by CTS Platform and CREATETHE AGENCY with an effective SEO and SEM strategy."
New York, NY (PRWEB) November 27, 2012
Morpheus Media: A CREATETHEGROUP Company announced that it has been named search agency of record by The Frye Company. The agency will handle Search Engine Optimization (SEO), which includes not only providing recommendations on the technical and content aspects of TheFryeCompany.com, but also consulting on optimizing site conversion rates and offsite elements. The agency's comprehensive Paid Search Marketing (SEM) services are a natural complement to SEO, and Morpheus Media looks forward to building a partnership with The Frye Company beginning with these foundational disciplines.
A pioneer in the digital marketing space, particularly for fashion retailers, Morpheus Media approaches search marketing as part of its clients' ongoing conversations with their consumers, rather than a separate, discrete marketing channel. SEO is critical to an SEM program's success as search engines reward advertisers for sending users to optimized, relevant content. Morpheus Media will ensure The Frye Company's digital strategy remains aligned with best practices and takes advantage of new product releases.
"We are really looking forward to working on SEM and SEO with Morpheus Media. This partnership is a natural extension of our work with CREATETHE GROUP, our creative and commerce partner. So far, we have been very impressed with the team working on our Frye campaigns." – Andrew Tarica, Digital Director, The Frye Company
"Frye has produced high-quality leather products in the U.S. for the past 150 years. As the brand's new partner in the digital sphere, we will work diligently to preserve and enhance the outstanding reputation Frye has established for itself. We are thrilled to expand our relationship with The Frye Company by reinforcing the world-class eCommerce experience crafted by CTS Platform and CREATETHE AGENCY with an effective SEO and SEM strategy." – Shenan Reed, Chief Media Officer, CREATETHE GROUP
ABOUT CREATETHE GROUP
Founded by James Gardner and Allen Kung in 2004, CREATETHE GROUP architects and powers global digital businesses through art and science.
The company has 250 professionals in New York City and London with clients including Alexander Wang, Burberry, DKNY, Dunhill, Godiva, H&M, Knoll, Marc Jacobs, NARS, NOWNESS, The New York Times and Tom Ford.
Morpheus Media
Morpheus Media is a digital marketing and strategy agency that specializes in activating cross-functional teams to achieve ROI goals and maintain brand guardianship through services including Paid Media, SEO, Social Media, Analytics, and Mobile.
CREATETHE AGENCY
Digital creative agency delivering emotional and innovative commerce, communication and campaign experiences that align with business goals and deeply connect brands with consumers who are online, mobile, in-store, and through social channels.
CTS
Global digital commerce development platform seamlessly integrating content, commerce, and community, and leveraging the efficiencies of a SaaS solution with the tools needed to create bespoke, omni-channel digital flagship stores.
CREATETHE STUDIO
Full service digital photography and video studio that perfectly combines high quality editorial with high volume, fast moving digital commerce content. Understanding the power of rich and engaging content in order to drive conversion and ROI.
Social Contacts
@MorpheusMedia on Twitter, Facebook, Tumblr, LinkedIn