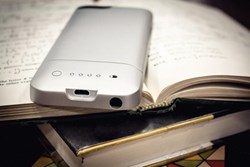 Denver, CO (PRWEB) February 14, 2013
Thanks to users' interest for iPhone 5 battery cases, producers have already announced or already released products that promise to solve battery life issues.
http://www.Iphone5BatteryCase.net reveals that for the buyer who is already on a budget, even the purchase of a battery pack for their iPhone 5 is a strain on the budget so it is important to choose beforehand a compatible, safe and prolific power accessory.
Mophie Battery Case is a popular name for the buyers that have previously bought mobile backup batteries. This time around, for the iPhone 5 battery case, Mophie delivered a product with a design, iPhone 5 owners will appreciate: it is about 13 percent thinner than the version the producer has delivered for iPhone 4S and iPhone 4. Therefore, the name Helium.
In terms of power, the Mophie Juice Pack Helium iPhone 5 battery case isn't exactly at the top of today's offer. The product features a 1500 mAh battery which is does add considerate juice to iPhone 5's standard 1,440 mAh in-built battery. In terms of actual usage, the 1500 mAh battery case will add 7 hours of Wi-Fi browsing, 30 hours of music playback, 7 hours of movie watching and about 6 hours of cellular browsing.
The design is however the main highlight of this iPhone 5 battery case. Thinner is something Apple's has been striving to offer consumers and consumers at their turn have learnt to develop a preference for metallic and thin design. In terms of functionality, the Mophie iPhone 5 battery case features a micro USB port that handles data transfer and charging for the Lightning Connector. It's an appealing feature for users not keen on investing in Apple's 30-pin charger that is compatible with the Lightning Port.
iPhone 5's new Lightning Port requires a new set of accessories, including a new battery case. Although producers need Apple's MFI Certificate to sell compatible power accessories for iPhone 5, that doesn't make it easier for buyers to identify the battery case that's most worth the price and bother. The iPhone5BatteryCase website aims to help the buyer interested in an iPhone 5 battery case make the best purchasing decision. It provides reviews, news, product comparisons and discount alerts of battery cases for iPhone 5 announced or released.
Reviews available on the iPhone5BatteryCase website pertain to all price category products and take into account both popular and unknown brands. Product reviews take into account the design, the quality and durability and above everything else the battery case's actual power. The ultimate purpose is to identify the sole iPhone 5 battery case that's most worth a buyer's money and attention.