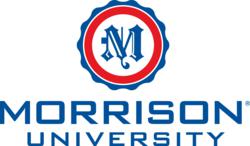 The Fast Start program will be a tremendous asset that will expose our students to college-level courses and the rigor involved in a university environment.

--Dr. Heath Morrison, Superintendent, Washoe County School District
Reno, Nev. (PRWEB) January 30, 2012
Morrison University in Reno, Nevada announces its Fast Start high school-to-college transition program.
Beginning February 1, 2012, the program is open to second semester high school seniors who meet certain academic and other requirements. Morrison University selects students based on information provided in the student application, including a short essay. Students who are selected to participate will be permitted to take a total of two college-level general education courses at Morrison University at no charge.
"Our Fast Start program provides high school seniors an opportunity to earn college credits while still in high school," says Morrison University Campus President David Heckeler. "This experience gives the participating students a valuable experience in a university environment."
"Receiving a high school diploma and pursuing higher educational opportunities is essential to preparing our children for their futures," says Dr. Heath Morrison, Superintendent for the Washoe County School District. "It is extremely important that we get our children thinking about college at a younger age. The Fast Start Program will be a tremendous asset that will expose our students to college level courses and the rigor involved in a university environment." (Dr. Morrison is not connected to Morrison University.)
Morrison University offers undergraduate degrees in business and technology fields and a Master of Business Administration. The school is located at 10315 Professional Circle in Reno. For more information and to request an application, please contact Joyce Decker, Director of Admissions, at 775-33-3905 or jdecker(at)morrison.anthem(dot)edu.
About Morrison University
Originally established in 1902, Morrison University is part of Anthem Education, a Phoenix, Arizona-based family of schools and colleges that provide career-focused training and education programs at 23 accredited institutions in 15 states as well as online. The Anthem Education family of schools includes Anthem College, Anthem College Online, Anthem Career College, Anthem Institute, The Bryman School of Arizona, and Morrison University. For more information, visit http://anthem.edu.
For more information about our graduation rates, the median debt of students who completed the program, and other important information, please visit our website at http://www.anthem.edu/disclosures.
###