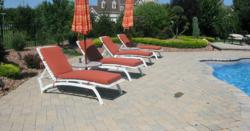 Northern Jersey, NJ (PRWEB) February 26, 2012
In the last several years, the use of concrete has drastically changed. Decorative concrete has definitely become a hot design trend for patios, entryways, driveways, and pool decks. Today, ESPJ Construction announced the benefits to adding decorative concrete to a home.
"Unlike pavers or natural stone, cement offers a wide range of options since it can be shaped, imprinted, textured, and colored to achieve any look," says owner Giovani Espjo. "Even though concrete is a less expensive alternative than natural stone, its quality, durability, and strength are second to none."
Here are just a few reasons decorative concrete is becoming so popular:
Increased resale value of property
The authentic-looking textures and appearances offer the beauty of natural surfaces without all the added expense. Stamped and colored concrete turns driveways, borders, walkways, patios, steps, and pool decks into beautiful works of art and adds instant curb appeal and aesthetic value to a property.
Ability to create custom looks
Color is yet another design option. Some companies such as ESPJ Construction offer a vast palette of color choices and even multi-colors to compliment any home's exterior. In addition, homeowners can add simple or complex designs to concrete including borders, logos, names, numbers, or other motifs.
Requires less maintenance
Stamped concrete requires minimal maintenance compared to natural stone and other paving materials which saves money and time. In addition, concrete never needs resetting or replacing.
ESPJ Construction is an innovative company specializing in concrete stamping as well as pool copings, pool decks, retaining walls, patios, sidewalks, driveways, fountains, curbs, stairs, steps, waterfalls, and other custom projects. Their staff regularly attends seminars and conventions to stay up-to-date on all the newest products available.
With 17 years experience and an A+ rating with the Better Business Bureau, their innovative design capabilities have earned them a reputation as one of the top concrete specialists in Northern New Jersey.
For more information about this state-of-the-art company, please visit their website http://www.espjconstruction.com.
About ESPJ Construction
ESPJ Construction and Concrete offers specialty concrete and masonry services perfect for patios, walkways, pool decks, driveways, retaining walls, home exteriors, entrances, and more. They serve New Jersey, New York, Pennsylvania, and Connecticut.
###