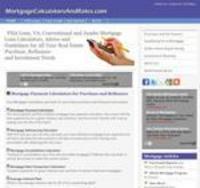 I cannot stand websites that under the pretense of providing information, overwhelm the visitor with pop ups, pop unders and competing ads
Chatsworth, CA (PRWEB) November 30, 2010
The new Mortgage Payment Calculator website design is easy to navigate and offers clear, simple instructions and advice to the visitor who takes home financing seriously.
Los Angeles based website developer RAZ, who has 22 years of experience in originating and closing mortgage loans, said "I cannot stand websites that under the pretense of providing information, overwhelm the visitor with pop ups, pop unders and attempts to collect email addresses in page full of competing ads".
"I do understand that an information website needs advertising income to survive and develop properly, we display ads too, but that should not be done at the expense of the visitor's experience" added RAZ.
The total re-design of the Mortgage Payment Calculators site, includes the addition of a number of new mortgage calculators which were developed with the end user in mind. More mortgage calculators are in the works which will be added in due course.
It is difficult to rely on a commissioned salesperson (Mortgage Loan Officer) for sound advice when planning on obtaining a purchase money or refinance home mortgage loan. After all, the loan officer has only his/her interest in mind and can only offer choices available to him/her through the bank or mortgage company employing him/her.
Various new Mortgage Calculators are available at http://www.mortgagecalculatorsandrates.com that include clear explanations and instructions enhanced with tips and guidelines that will help the visitor make an informed decision on a subject that probably has the biggest impact on most American's financial well being.
To obtain home financing without thoroughly comparing various mortgage products offered and their long term impact on one's finances is simply asking for trouble. After all purchasing a home is the largest financial decision most of us make in our lives.
The site re-design is further enhanced with a series of useful Mortgage and Credit related articles as well as a mortgage blog which provides up to date information on mortgage guideline changes and mortgage rate updates written by industry experts.
###