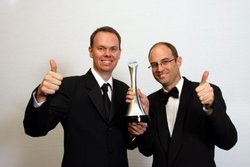 "We're excited to now offer customers a 'one-stop-shop' of financial solutions, our aim is to make the process as simple and convenient as possible."
(PRWEB) May 31, 2010
Well-respected for his industry knowledge and experience, local mortgage broker Anthony Smith celebrates an important achievement this month – 10 years as a business owner for Mortgage Choice, Australia's largest independently-owned mortgage broker.
Anthony takes great pride in the success his local franchise has achieved over the past decade and he is grateful for the support of his customers and team.
"Ten years in a successful business is an achievement I'm proud of. During that time I have helped thousands of Cheltenham locals and those in nearby areas to find a great loan, whether that means it has a competitive interest rate, low fees and/or is packed with a range of features," said Anthony.
"If it weren't for the backing of my strong team, with special mention of Kirsty Williamson, Chris Howitt and Kate Holland, all of whom have been with me for over five years, I wouldn't have achieved anywhere near as much in this amount of time.
"Helping customers' reach their property goals is straightforward when you also have the support and encouragement of friends and family, plus other passionate Mortgage Choice brokers. Not to mention our lending partners – without them our customers wouldn't be able to finance their dreams."
In addition to commemorating Anthony's first decade at Mortgage Choice, this year marks the fourth consecutive year his franchise business has been among the company's elite 'High Flyer' category that recognises its top franchise owners nationally.
"It has been a win all-round for us lately. We maintained our High Flyer status on the back of winning the 2009 Mortgage and Finance Association of Australia Broker of the Year award, as well as ranking amongst the Mortgage Professional Australia magazine's Top 100 Brokers list in 2009 for the second consecutive year," Anthony said.
Always looking for ways to improve customer service, Anthony and his team recently diversified their services. Today, they offer residential investment, commercial and personal loans, plus asset finance and insurance services. Anthony is confident that with a broader service offering, the business can better help borrowers achieve their financial goals.
"We're excited to now offer customers a 'one-stop-shop' of financial solutions. Our aim is to make the process as simple and convenient as possible, by offering information and guidance with great care. We want customers to be confident in their decision making, especially considering the recent bout of interest rate rises," said Anthony.
"Whilst we continue to improve our business strategy, one critical element remains unchanged - that we do not charge customers for our residential loan services."
Anthony and his team will shortly host the Property Collectors Club, a quarterly information session for customers involved or interested in property investment. Each session will be presented by a different guest speaker and will include customer case studies, investment property tips and insights into investment loan structuring.
"Our aim is to share our knowledge and experiences alongside industry experts and customers so we can all help each other achieve more. We hope to inspire locals to create their own wealth by demonstrating how property investment could work for them," said Anthony.
Visit Anthony and the local team's website at http://www.mortgagechoice.com.au/anthony.smith or call 9585 7779.
# # #