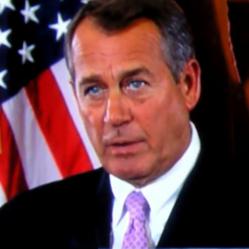 "People trying to do short sales are freaked out about it. They're telling me they'll do whatever it takes to close by the end of the year." ~ Elizabeth Weintraub, Calif. Realtor
Minneapolis, Minnesota (PRWEB) November 30, 2012
John A. Boehner, in a speech today, offered a potential path to compromise in year-end budget negotiation. The clock is ticking on a tax break that saves struggling homeowners from paying thousands of dollars to the IRS. While both sides agree that homeowners need mortgage tax debt relief, no one is quite sure how to come to agreement on it.
If the Mortgage Forgiveness Debt Relief Act of 2007 does not get extended by Congress by December 31, struggling homeowners will have to start paying income taxes on the portion of their mortgage that is forgiven in a foreclosure, short sale or principal reduction. It will almost certainly undermine efforts to trim loan balances for homes underwater. For homeowners who thought maybe they had stabilized and could keep current on mortgage payments, Congress's leaving this decision till the last minute is renewing the grip of uncertainty.
"Boehner's Washington remarks seemed to suggest a reformed tax code can raise more revenue by curbing special interest loopholes and deductions and by generating economic growth. That would indicate a position of renewing the Mortgage Forgiveness Debt Act," says Home Destination.
"Both parties, both houses of Congress agree it's good policy and it needs to get done," said Jamie Gregory, chief lobbyist for the National Association of Realtors (NAR), which supports an extension. "The hold up is the process. I'm confident it will get done. I just don't know how." said Alex Charfin from NAR. "The Phantom tax" or "Cancellation of Debt Tax" is incredibly damaging," he added
Christine Romans of CNN Money reported, "We are also approaching the debt ceiling. All the while, the bond market? Interest rates are super low here, sort of giving 'cover' to the urgency of this as well".
To help ease concerns, Jenna Thuening explains, "Even if Congress lets the homeowners tax exemption expire, some home borrowers with forgiven mortgage debt will not feel the effects of the tax hit". Here are a few scenarios of who will miss it:
1) If the debt is discharged in a bankruptcy, no tax is due.
2) Anyone who is insolvent -- meaning they have more debt than assets -- at the time the debt was forgiven -- would not have to pay the tax. The IRS says, "Assets include everything you own, e.g., your car, house, condominium, furniture, life insurance policies, stocks, other investments, or your pension and other retirement accounts".
3) Other borrowers are protected against paying the tax because of the way the state they live in responds foreclosures. For example, California homeowners who fall in this category are protected.
4) Certain farm debts: If you incurred the debt directly in operation of a farm, more than half your income from the prior three years was from farming, and the loan was owed to a person or agency regularly engaged in lending, your cancelled debt is generally not considered taxable income.
5) Non-recourse loans: A non-recourse loan is a loan for which the lender's only remedy in case of default is to repossess the property being financed or used as collateral. Forgiveness of a non-recourse loan resulting from a foreclosure does not result in cancellation of debt income.
But Boehner's final sentence today makes one beg for more of an interpretation: "Because the American people expect us to find common ground, we are willing to accept some additional revenues, via tax reform." His tone seems more open. However his approach to tax increases, in which you close tax breaks and deductions and use some of the money to lower rates and some to reduce the deficit, sounds the same as his summer statements.
"What Boehner is bringing forward isn't not easy to do, but it is possible" commented Jenna. "With the election behind us, it is a time for us to engage the hard and worthy work of protecting homes, and increasing opportunity for homeowners to make better decisions".
In Boehner's speech he said, "The American people this week didn't give us a mandate to do the 'simple' thing. They elected us to lead." Perhaps we will all do well to follow that lead, leave "simple solutions" behind and engage the hard work of of ensuring a stronger housing recovery as we head into another year.
Contact Home Destination if you live in the Minneapolis / St Paul community and need to talk to someone about buying a home or seeking a home modification. Call 612-396-7832.