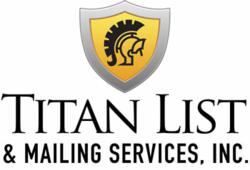 The time is ripe to refinance high interest rate loans
Deerfield Beach, FL (PRWEB) July 18, 2012
Titan List & Mailing Services, Inc., a leader in direct marketing in the mortgage industry, has announced another record-breaking month in 2012. In June, bolstered by the expanded FHA guidelines and the new HARP 2.0 program, they designed, printed, and mailed over a million direct mail advertisements in less than 7 days. Business has continued to expand. Titan just announced that, for the month of July, they smashed the records set in June by 20%.
"We are proud of the way our team has been able to handle the large influx of business generated by the FHA programs," said K. Justin Restaino, President of Titan List and Mailing Services. "The time is ripe to refinance high interest rate loans and our business success over the last two months is proof of that."
Titan List & Mailing Services, Inc. has been around since 1998, and started as a data list broker for mail and phone lists. The company expanded their operation to also include printing and mailing after noticing an integrity gap with other mail and print providers.
"The FHA and HARP 2.0 programs have created a frenzy in mortgage marketing with our clients," said Braverman, Director of Marketing at Titan List and Mailing Services. "There are millions of homeowners stuck in high interest rate loans that have been unable to refinance, and these programs are exactly what they have been waiting for. All a mortgage shop has to do is get the word out to them, and that's where Titan Lists has been successful."
HARP 2.0 is viewed by many in the mortgage industry as a catalyst for the next refinance boom. Braverman also explained that the FHA program is making big waves due to Obama's recent initiative to cut costs on FHA loans. This move could help over 3 million borrowers refinance. Both programs are new and expected to grow. That's good news for Titan, as well as other direct mail companies, who will benefit from the increase in mortgage marketing being conducted through the mail.
"Direct mail works and mortgage shops know it," said Braverman. "We wouldn't have had these huge months in June and July if what we were doing wasn't effective. That feels good, but we're anything but satisfied. We expect the new programs to continue to expand and when they do, Titan Lists will be there to help. We're aiming to go for three in a row and smash all of our records in August."
ABOUT TITAN LIST & MAILING SERVICES, INC.
Titan List & Mailing Services is a full service advertising and design agency specializing in direct mail and mortgage marketing, mailing lists and data lists, internet marketing and SEO, and website design/ graphic design. Titan List has been around since 1998, and has a team of highly qualified individuals with experience in the marketing trends that fit your business. Unlike other agencies that source their work out, Titan Lists handles the entire campaign in-house - Data Lists, Design, Printing, Mailing, and Postage.
For more information please call or visit:
http://www.TitanLists.com | 800.544.8060