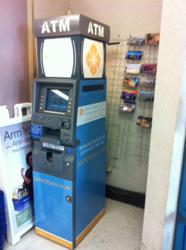 People have already begun to notice our branding on the ATMs
San Francisco, CA (PRWEB) December 16, 2011
In an effort to provide the most convenience possible for its members, San Francisco Federal Credit Union has entered an agreement with Welch ATM to allow its members surcharge-free usage of cash dispensing ATMs in more than 500 Walgreens locations across California. Under the agreement, the ATMs will carry the credit union's brand at selected locations throughout San Francisco.
"People have already begun to notice our branding on the ATMs" says Steven Stapp, President/CEO of San Francisco Federal Credit Union. "The locations are in neighborhoods near San Francisco FCU branches. We're very excited about the opportunity to build awareness and recognition for the credit union. This agreement will not only help attract new members, but it will enhance the convenience of our services for existing members."
Credit unions work because the people who use their services do not just hold accounts with the institution, they are partial owners. As a result, they are part of creating and implementing innovations to enhance better service.
Selected San Francisco Walgreens ATMs will be easily recognizable with the San Francisco FCU logo. For store locations and hours, visit Walgreens.com.
Anyone who lives or works in San Francisco and is interested in joining San Francisco Federal Credit Union can learn more about its high level of service at http://www.SanFranciscoFCU.com or call (415) 775-5377.
About San Francisco Federal Credit Union
San Francisco Federal Credit Union is a not-for-profit, community-based financial institution exclusively serving San Francisco since 1954. Today, anyone who lives, works, worships, or attends school in San Francisco may apply for membership. We receive an ongoing superior five-star rating from Bauer Financial, INC., a renowned independent agency that analyzes the financial conditions of credit unions. Five stars is the highest attainable rating, and we have earned and sustained this rating this rating for over 14 years. We currently serve more than 30,000 members.
For more information about first-time homebuyer programs, financial planners or mortgage lending at San Francisco Federal Credit Union, please call (415) 775-5377 or visit http://www.SanFranciscoFCU.com.
About Welch ATM
Welch ATM is one of the largest ATM companies in the United States with over 6,000 ATMs under management in 47 states. Welch ATM focuses on providing Financial Institutions with creative solutions enabling them to expand their brand through ATMs and delivering better customer service. To contact Welch ATM about developing a custom ATM program for your institution, please call Adam Hobelmann at (636)536-3030.
###