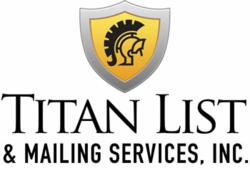 Our clientele are happy. It's true, some of them are decreasing the volume of their mailing campaigns so they can handle the demand
Deerfield Beach, FL (PRWEB) July 30, 2012
Due to high response and loan conversion rates, Titan List and Mailing Services, Inc. reports that some of its weekly clients have been reducing the number of mail pieces they are releasing. New loan policies have drastically dropped interest rates and have fueled homeowners into action, which has created an overwhelming response for some of the mortgage shops soliciting their business with direct mail advertising. This poses an interesting problem for direct mail companies that desire both large and effective mailing campaigns. K. Justin Restaino, Vice-President of Titan List and Mailing Services, views the phenomenon as beneficial for the direct mail industry.
"Our clientele are happy. It's true, some of them are decreasing the volume of their mailing campaigns so they can handle the demand," said Restaino. "This means two things: One, direct mail works. Two, they have room to expand their business operation. Those are both good things."
Restaino stated that even with the reduced promotions, mortgage shops are still reporting a large increase in new customers. He cited one company's recent campaign as an example. They launched a relatively modest mail drop of 10,000 pieces in Florida and California. The drop targeted loans with 24 months+ seasoning. In two days —Monday thru Wednesday morning—the company received 198 new calls, of which 135 were unique. The response was so high they needed a week off to catch-up.
"That's direct mail in action," said Jared Braverman, Director of Marketing at Titan List and Mailing Services. "In that particular drop we used a brand new compliant mail piece paired with credit data. The results were astounding. That company got very busy very quickly given their reduction in mailings."
Braverman explained that mortgage brokers are often surprised with the results of a properly targeted direct mail campaign, which can create an excess amount of demand. One moderately sized mortgage shop based in Virginia began using Titan List and Mailing Services a year ago. They started by sending 7,500 mailings a month using VA Streamlines—a program to help military veteran or active service member's to refinance their loans.
"Ultimately they wanted to close 100 more loans a month using direct mail. They wanted to reach this target within six months, at which point they would be mailing 100,000 pieces a month. In just the second month they hit their target of 100 more closed loans using just 35 percent of their projected mail volume," said Braverman. Today that company mails 100,000 flyers a month and picks up an extra 200 to 300 loan closings monthly.
Braverman mentioned another mortgage shop based in New Jersey that began working with Titan Lists two and half years ago. "Their first order was for 13,000 pieces targeting the New England area. Now, on average, they drop about 340,000 pieces nation-wide and are a much larger operation then when they started."
It is success stories like these that give Restaino confidence as some clientele have begun to draw back the extensiveness of their mailings.
"Direct mail works. The biggest thing to remember is that our clients have been getting great results, and that is what's important" said Restaino. "It definitely seems like the time is ripe to expand if you're a mortgage shop. Direct mail is a great way to do that."
ABOUT TITAN LIST & MAILING SERVICES, INC.
Titan List & Mailing Services is a full service direct marketing agency specializing in direct mail, printing, data lists (mail or phone lists), graphic / web design, and internet marketing / SEO. The company has been in business since 1998, and has a spotless track record and an A+ BBB rating. Titan's team of highly qualified individuals has experience in marketing trends that fit your business. Unlike other agencies that outsource their work, Titan List handles your entire campaign in-house - Data Lists, Design, Printing, Mailing, and Postage - All under one roof
For more information please call or visit:
http://www.TitanLists.com | 800.544.8060