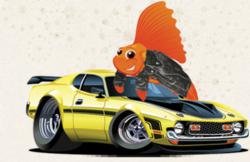 My dear ol' departed daddy used to say, 'You should expect some big financial changes during election year.'
New York, NY (PRWEB) March 23, 2012
RoadFish.com men's lifestyle and finance magazine keenly observed the rise in mortgage rates above 4% for the first time in 5 months and is taking the climbing rates as a sign of a likewise climbing economy.
Meg Handley of US News reported that Freddie Mac has confirmed this month that the average rate on a 30-year fixed mortgage has risen above 4%, which would make it the first time since October 2011 that it has done so. According to Handley's article, experts claim that the increase is a result of optimistic forecasts for upcoming economic growth, and high results on bank stress tests. Keith Gumbinger, Vice President of mortgage website HSH.com, is quoted as saying, "[N]ascent optimism about the health of the economy may fade given the concerns about higher gasoline prices and still-troubled European market. However, without the emergence of more downbeat news, it will be difficult for mortgage rates to decline much." The article goes on to add that in March 2011, the average mortgage rate was 4.79% so current rates are still lower than they were a year ago.
Mary Ellen Podmolik of The Chicago Tribune reported that treasury bond yields have risen over the past two weeks, and stated that the rate increase is "good news." She includes a quote from Celia Chen, Senior Director at Moody's Analytics, stating "Part of the reason [mortgage rates] have been trending up is actually a positive sign. The outlook for the economy is stronger, so inflation expectations are rising and that will cause interest rates to rise a bit." Moody's Analytics has predicted that 30-year fixed-rate mortgages will rise to 4.6% by the end of 2012.
RoadFish.com's editor is quoted as saying, "My dear ol' departed daddy used to say, 'You should expect some big financial changes during election year.' He thought that the current administration would always manipulate the economy to try to make things look good to get reelected. Is that what is going on here? I'm not sure. We will stay tuned to see."
A fixed-rate mortgage is one wherein the interest rate on the note remains consistent throughout the term of the loan (for example, 30 years) as opposed to different types of loans where the interest rate may be adjusted over a length of time. With a fixed-rate mortgage, the payment amount and the length of the loan become hard and fast and are non-negotiable.
RoadFish.com feels that it is still a very good time to buy, despite mortgage rates on the rise, considering they are still lower than last year. RoadFish.com's Senior staff writer is quoted as saying, "If mortgage rates are indicative of an economy on the rise, I'm cool with it. That's the hope. Besides, we can't complain too much--we just had rates as low as 3.9 percent. So for folks who have wanted to buy and missed the 'under 4% boat,' it's still a good time. If you've got a good-looking credit score and are considering sealing the deal on a house, it certainly does appear that the time is now."
The above-mentioned Chicago Tribune article pointed out that the increase in mortgage rates could go either way: on the one hand, the higher the mortgage rate, the more difficult it may be for some potential home-buyers to qualify for a loan since the payments will be more expensive. On the other hand, the increased rates may serve to push would-be home-owners in the direction of buying now, before the rates climb any higher. One seemingly clear affect the mortgage rate increase will have is on lowering refinancing applicants. The Tribune reports that for the week ending on March 16, refinance applications plummeted by 9.3 percent from the week before, resulting in the lowest numbers since July 2011.
About RoadFish.com
RoadFish.com is an online men's lifestyle and finance magazine targeted toward men in their 30's and 40's that have already attained a moderate level of success in life, and are striving toward more. It goes over current events of interest to this group, such things as exciting adventures, making money, consumer interests, hot chicks, and dating tips, as well as ways to make more and save more money. It is a publication owned by Purpose Inc.
###