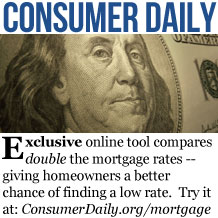 A $300,000 mortgage costs over $100,000 less in interest fees when a 15-year term is selected instead of a 30-year term.
Palm Beach, FL (PRWEB) August 08, 2012
The average consumer can find and compare mortgage rates using a service such as Consumer Daily, which provides an extensive and regularly updated list of mortgage rates from an exhaustive selection of lenders and banks. Using Consumer Daily's mortgage comparison tool, potential borrowers can easily compare the costs of a 15-year mortgage versus a 30-year mortgage.
For example, consider a $300,000 mortgage with either a 30 year mortgage at 3.55% or a 15 year mortgage at 2.85%.
On the 30-year term, your approximate costs would be:

$1300 in monthly mortgage payments
about $195,000 in interest charges
On the 15-year term, your costs would be:

$2000 in monthly mortgage payments
only $70,000 in interest charges
There are a lot of savings that can be gained by taking out a 15-year mortgage. But is there a rush to refinance?
According to Freddie Mac Chief Economist Frank Nothaft, not only are the interest rates on the 15-year mortgage extremely low, but the difference between the 15-year rate and the 30-year rate is unusually wide. For the weekend ending July 19, the rate on 30-year mortgages averaged 3.53% while the 15-year rate was only 2.83%. The 0.7 percentage point difference is much higher than any other spread in recent history.
This unusually high spread can be attributed to current Federal Reserve policies. Nothaft explains, "They have pushed short-term interest rates as close to zero as they can. That keeps other short-term lending rates fairly low." No one knows how long these rates will last, but they have not shown signs of rising yet. However, there are still variations between banks and lenders. Consumer Daily has been adding more and more lenders to their database, allowing borrowers to compare rates and find the lowest rate at their chosen mortgage term.
However, a 15-year term might not be the best option for all buyers. Since you are paying off the same principal over a shorter length of time, your monthly payment will be higher than it would be with a 30-year mortgage. For some borrowers, this may present hardship in the case of job loss or unexpected emergencies.
Karen Mayfield, national sales manager for the mortgage-banking division of Bank of the West, cautions borrowers to look beyond the numbers and examine their own personal situation before committing to a 15-year loan. She suggests in particular that first time homeowners consider the cost of maintenance and taxes in addition to the monthly mortgage payment itself. In some cases, borrowers might be better off sticking with the 30-year mortgage and making extra payments when they are able.
For borrows able to shoulder the monthly payments, the low 15-year rate remains an excellent opportunity for homeowners to save a bit of interest and pay off their mortgages faster. To get started with Consumer Daily's mortgage rate finder, borrowers only need to supply their zip code, the remaining balance on their loan, and a mortgage term. By searching Consumer Daily's database of lenders and rates, borrows can ensure that they will find the best available rate on their 15-year mortgage.