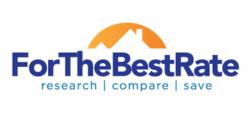 30 year fixed rates are still under 4 percent on average - a few years ago that would have been unthinkably low
Wilmington, NC (PRWEB) June 04, 2013
Mortgage rates for the most popular fixed and adjustable rate programs rose on average this week reports mortgage rate research website, ForTheBestRate.com. On Friday, May 31st, 2013 30 year fixed mortgage rates were advertised in the rate tables on ForTheBestRate.com as low as 3.375% (APR: 3.637%, Points: 2.000, Fees in APR: $1995, Lender: Nations Choice Mortgage.)
15 year fixed rates were posted as low as 2.500% (APR: 2.871%, Points: 2.000, Fees in APR: $946, Lender: Home Loan Enterprise,) and 5/1 ARM interest rates as low as 2.625% (APR: 2.622%, Points: 0.000, Fees in APR: $0, Lender: Ladera Lending) were advertised.
The weekly survey of mortgage rates released by Freddie Mac, a government sponsored enterprise and purchaser of mortgage loans on the secondary market, on Thursday, May 30th, 2013 also showed mortgage pricing moving higher when compared to one week earlier. The report showed that 30 year fixed mortgage rates rose to an average of 3.81% (0.8 points) across all US markets, up from 3.59% (0.7 points) the week before. 15 year fixed rates also increased on average to 2.98% (0.7 points) from 2.77% (0.7 points) one week earlier. 5 year adjustable rate pricing was up by a smaller margin to 2.66% (0.5 points) on average, up from 2.63% (0.5 points.)
"For homeowners who have thought about refinancing but have yet to get started, now is certainly the time to think seriously about that transaction, commented Shaun Hamman, VP of Residential Lending at American Financial Resources, a National mortgage lender. "House hunters who can't act immediately because they don't yet have a property under contract shouldn't be overly stressed about these rising rates. 30 year fixed rates are still under 4 percent on average - a few years ago that would have been unthinkably low," he continued.
Below is a snapshot of interest rates for a variety of programs listed on 5/31/13 on ForTheBestRate.com. Oakland, CA mortgage rates represented in this survey. Rates are subject to change. Please visit the site to view the criteria used in the survey.
30 Year Fixed Mortgage Rates
SwiftLoan Funding - 3.500% Note Rate, 3.651% APR, 1.000 Points, $1405 Fees in APR
AimLoan.com - 3.500% Note Rate, 3.681% APR, 1.000 Points, $1995 Fees in APR
15 Year Fixed Mortgage Rates
Pleasant Valley Home Mortgage - 2.875% Note Rate, 2.875% APR, 0.000 Points, $0 Fees in APR
AmeriSave - 2.625% Note Rate, 2.920% APR, 0.835 Points, $1995 Fees in APR
10 Year Fixed Mortgage Rates
ThirdFederal Savings & Loan - 2.490% Note Rate, 2.686% APR, 0.000 Points, $1553 Fees in APR
Pleasant Valley Home Mortgage - 2.750% Note Rate, 2.750% APR, 0.000 Points, $0 Fees in APR
5 Year Adjustable Rate Mortgage Rates
Interbank Mortgage Company - 2.625% Note Rate, 2.645% APR, 0.000 Points, $499 Fees in APR
Integrity First Direct Mortgage Lender - 2.250% Note Rate, 2.658% APR, 1.000 Points, $1845 Fees in APR