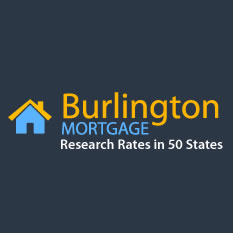 Moving from a 6.000% mortgage rate to a 3.500% rate can have a substantial impact on net worth down the road, and a lower monthly payment can instantly put a household in a better position to continue to weather the current financial storm
Wilmington, NC (PRWEB) July 17, 2012
Fixed mortgage rates dropped this week, once again on average falling below the lowest mortgage rates on record, reports mortgage rate research website, BurlingtonMortgage.biz. Home loan pricing advertised on the website reflected the rate decrease with 30 year fixed rate pricing as low as 3.38% (APR: 3.38%, Points: $0, Fees in APR: $0, Lender: Hamilton National Mortgage Company) posted in the rate tables on Thursday, July 12th, 2012. 15 year fixed mortgage rates also dropped to new record lows, reflected in the posted rates, going as low as 2.75% (APR: 2.84%, Points: 0, Fees in APR: $995, Lender: New Penn Financial, LLC.)
Repeated reports indicating weakness in several sectors of the US economy has helped push mortgage rates to these unprecedented levels. Among the latest was the July 6th report from the US Department of Labor showing only 80,000 jobs were created in June, keeping the unemployment rate unchanged at 8.2%.
"While we're always hopeful for favorable news about the country's economic recovery, home buyers and homeowners do have an excellent opportunity to take advantage of current pricing and programs to set themselves up in a positive way for the future," comments Sales Manager with Gateway Bank Mortgage. "Moving from a 6.000% mortgage rate to a 3.500% rate can have a substantial impact on net worth down the road, and a lower monthly payment can instantly put a household in a better position to continue to weather the current financial storm," he continued.
Current mortgage rates for a number of different residential mortgage programs can be viewed on BurlingtonMortgage.biz. Below is a snapshot of mortgage rates for a variety of products listed on the site on 7/13/2012. Richmond, VA mortgage rates represented in this sample. Rates are subject to change. Please visit the site to view the criteria used in the survey.
30 Year Fixed Mortgage Rates
Mortgage Capital Associates - 3.25% Note Rate, 3.38% APR, 1.000 Points, $995 Fees in APR
United Mutual Funding Corp - 3.25% Note Rate, 3.41% APR, 2.000 Points, $0 Fees in APR
15 Year Fixed Mortgage Rates
Online Mortgage Group - 2.88% Note Rate, 2.93% APR, 0.000 Points, $595 Fees in APR
Atlantic Mortgage & Funding, Inc. - 2.88% Note Rate, 2.94% APR, 0.00 Points, $795 Fees in APR
10 Year Fixed Mortgage Rates
Total Mortgage - 2.75% Note Rate, 2.85% APR, 0.000 Points, $799 Fees in APR
Roundpoint Mortgage Company - 2.75% Note Rate, 2.96% APR, 1.000 Points, $0 Fees in APR
5 Year Adjustable Rate Mortgage Rates
Third Federal Savings & Loan - 2.44% Note Rate, 2.68% APR, 0.000 Points, $1553 Fees in APR
Greenlight Financial Services - 2.25% Note Rate, 3.21% APR, 2.000 Points, $1995 Fees in APR
About BurlingtonMortgage.biz
BurlingtonMortgage.biz is a website that offers information regarding mortgages and personal finance. BurlingtonMortgage.biz is owned by CMG Equities, LLC based in Wilmington, North Carolina. For more information, visit http://www.burlingtonmortgage.biz/.