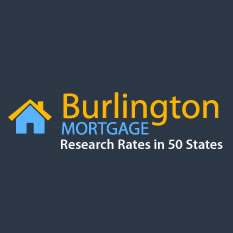 Though low mortgage rates don't always translate to excellent news in the overall economy, the silver lining for homeowners is that they can take advantage of today's extremely low pricing and presumably still have that rate 30 years from now
Wilmington, NC (PRWEB) July 10, 2012
30 year fixed and 15 year fixed mortgage rates have fallen on average below the lowest point on record, reports mortgage rate research website, BurlingtonMortgage.biz. The decrease has impacted the rates mortgage lenders and brokers advertise on the site, with pricing as low 3.25% (APR: 3.45%, Points: 1.251, Fees: $1995, Lender: AmeriSave) posted in the BurlingtonMortgage.biz rate tables for the 30 year fixed product on Friday, July 6th, 2012. 15 year fixed rates also reached new record lows, with interest advertised as low as 2.75% (APR: 2.92%, Points: 0, Fees: $1995, Lender: AmeriSave.)
Weak economic news recently released is credited with helping to push mortgage pricing even lower. In a report dated Friday, June 29, 2012 the Bureau of Economic Analysis, an agency of the US Department of Commerce, revealed that personal consumer spending was down $4.7 billion, or 0.1% in May. A disappointing unemployment report, a major indicator of the Nation's economic health, released Friday, June 6th, 2012 is likely to similarly impact markets, including mortgage rates. Only 80,000 jobs were created in June, not enough to lower the unemployment rate of 8.2%.
"Though low mortgage rates don't always translate to excellent news in the overall economy, the silver lining for homeowners is that they can take advantage of today's extremely low pricing and presumably still have that rate 30 years from now," commented Megan Criss, a Senior Editor with BurlingtonMortgage.biz. "There is a wonderful home buying opportunity as well for many considering entering the real estate market," she continued.
Current mortgage rates for a number of different residential mortgage programs can be viewed on BurlingtonMortgage.biz. Below is a snapshot of Tennessee mortgage rates for a variety of products listed on the site on 7/6/2012. Rates are subject to change. Please visit the site to view the criteria used in the survey.
30 Year Fixed Mortgage Rates
McGlone Mortgage Company - 4.25% Note Rate, 4.33% APR, 0.000 Points, $1495 Fees in APR
National Mortgage Alliance - 3.38% Note Rate, 3.50% APR, 1.000 Points, $900 Fees in APR
15 Year Fixed Mortgage Rates
WCS Lending - 2.88% Note Rate, 2.95% APR, 0.000 Points, $895 Fees in APR
Loan Depot - 2.88% Note Rate, 3.05% APR, 0.00 Points, $1950 Fees in APR
10 Year Fixed Mortgage Rates
Quicken Loans - 3.500% Note Rate, 3.70% APR, 0.000 Points, $1587 Fees in APR
McGlone Mortgage Company - 3.50% Note Rate, 3.69% APR, 0.000 Points, $1500 Fees in APR
5 Year Adjustable Rate Mortgage Rates
Third Federal Savings & Loan - 2.49% Note Rate, 2.71% APR, 0.000 Points, $1703 Fees in APR
Greenlight Financial Services - 2.25% Note Rate, 3.21% APR, 2.000 Points, $1995 Fees in APR
About BurlingtonMortgage.biz
BurlingtonMortgage.biz is a website that offers information regarding mortgages and personal finance. BurlingtonMortgage.biz is owned by CMG Equities, LLC based in Wilmington, North Carolina.
Update 2/19/2013: BurlingtonMortgage.biz is now PriceAMortgage.com which is also owned and operated by CMG Equities, LLC in Wilmington, North Carolina.