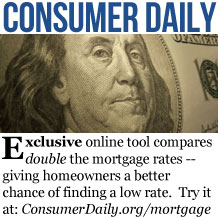 Homeowners looking to take advantage of a 30 year mortgage might need to hurry as rates start to increase.
Palm Beach, FL (PRWEB) August 24, 2012
Lenders and banks don't necessarily advertise their best rates widely, so consumers need to take the initiative to find and compare interest rates. Consumer Daily provides access to a list of mortgage rates using two large databases of lenders, regardless of a consumer's personal situation, that anyone can browse in a user-friendly fashion. Homeowners simply need to answer four questions to view precise rates from numerous lenders and banks online at:
http://www.consumerdaily.org/mortgage/
For example, recent rates available via Consumer Daily's search tool ranged from 3.4% to 3.8% for a 30 year fixed rate mortgage. On a $300,000 home, that is approximately $1500 per month in mortgage payments. While these rates are certainly higher than the 15 year fixed rate, the monthly payment for a 15 year fixed rate mortgage is over $500 more per month compared to the 30 year fixed rate mortgage. For some people, that extra $500 would be unaffordable, making the 30 year option a much more attractive proposition.
Current homeowners can benefit from a 30 year mortgage rate as well. Depending on the amount of equity the homeowner currently possesses, he or she may qualify for refinancing. By changing their current mortgage to a 30 year mortgage, homeowners can lower their monthly payment and free up cash for other investments or debt payments.
By imputing their zipcode, the value of their home, the current amount owed and the mortgage type into the Consumer Daily portal, homeowners can view current available rates for refinancing. Since Consumer Daily uses two large databases of lenders and banks, consumers are much more likely to find and compare the best rates.
Home ownership can seem out of reach for many people. Taking a 30 year mortgage makes it a little more affordable and realistic by letting purchasers pay back their loan in smaller amounts over a longer time frame. It also provides benefits to current homeowners who are looking to refinance and reduce their monthly payments. To get the most benefit, consumers need to carefully consider the interest rate on their loan using by comparing rates using a service such as Consumer Daily's extensive list of mortgage rates.