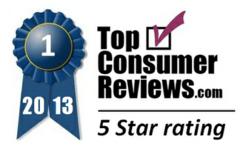 With mortgage interest rates near historic lows, now is a great time for homeowners to refinance their mortgage.
Chicago, IL (PRWEB) May 31, 2013
TopConsumerReviews.com recently revealed their best picks for Mortgage Refinance for 2013. TopConsumerReviews.com provides independent reviews for thousands of products including mortgage refinance services in order to help consumers make well informed decisions.
When looking to refinance a mortgage, many homeowners mistakenly believe that mortgage refinance companies offer the same products and services. However, these services can vary greatly in the number of loan choices they'll provide and the respective interest rates of those loans. Each year TopConsumerReviews.com carefully investigates the top mortgage refinance providers to help homeowners choose the best company for their needs.
"With mortgage interest rates near historic lows, now is a great time for homeowners to refinance their mortgage", explained Brian Dolezal, of TopConsumerReviews.com. "This is especially true for the millions of people who have an adjustable rate mortgage and want to lock in at the current low interest rate for the duration of their loan. Refinancing to a lower interest rate can save a homeowner hundreds of dollars each month and can also provide equity to pay off other debt."
Two of the best mortgage refinance services for 2013 include Lending Tree and Quicken Loans.
Lending Tree has been in business for over 17 years and works with a long list of lenders to help customers find the best rate and mortgage terms for them. The loan refinance process is straightforward with an online application. The website also provides excellent resources for those new to mortgage refinance. The customer is the priority at Lending Tree at that's evident in their A+ Better Business Bureau rating. Lending Tree is a great choice for finding the best mortgage refinance loans.
Quicken Loans has been in the mortgage business for over 25 years and providers homeowners quick and efficient closing during the refinance process. This customer oriented company holds an A+ BBB rating and has a long history of helping customers with their mortgage needs. The Quicken website is well designed and user friendly.
To find out more about mortgage refinance companies, including reviews and comparison rankings, please visit the Mortgage Refinance category of TopConsumerReviews.com at http://www.topconsumerreviews.com/mortgage-refinance/.
About TopConsumerReviews.com
TopConsumerReviews.com, LLC is a leading provider of independent reviews and rankings for thousands of consumer products and services. They offer the latest on Mortgage Refinancing including information, education, and ratings for the best mortgage refinance services available today.