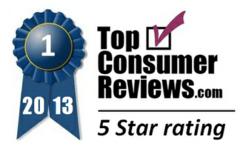 Chicago, IL (PRWEB) May 15, 2013
TopConsumerReviews.com recently reviewed the Lending Tree mortgage refinance service. TopConsumerReviews.com provides independent reviews for thousands of products including mortgage refinance service reviews in order to help consumers make well informed decisions.
With mortgage interest rates at historic lows, now is a great time for homeowners to refinance their mortgage. This is especially true for the millions of people who are "underwater" with their home mortgage – meaning they owe more on their home than it's currently worth. Refinancing to a lower interest rate can save a homeowner hundreds of dollars each month.
Lending Tree, in business since 1996, works with over 150 different lenders to provide customers with the best mortgage refinance loans available in the market. Their easy to use website and superior A+ Better Business Bureau reflects their commitment to customer service. Helpful tools such as a mortgage affordability calculator, credit repair information and more exist on this website for anything loan related.
The loan refinance process is simple at Lending Tree. Customers simply complete an online application and Lending Tree immediately goes to work finding the top 5 refinance rates for their customer. The customer then chooses the right loan for them and works directly with the lender to complete all of the necessary paperwork. There is no need to personally shop around with different banks and lenders when Lending Tree shops them all automatically and does it faster.
"Lending Tree does an excellent job of quickly and efficiently finding the most competitive loan rates for those in the market to refinance their mortgage. Their years of experience and strong reputation speak for themselves," explained Brian Dolezal, of TopConsumerReviews.com, LLC. "Lending Tree is the go to place for anything finance related. Customers will appreciate the resources and information available at this website. If you're considering refinancing your home, Lending Tree is a great place to start."
To find out more about mortgage refinance companies, including reviews and comparison rankings, please visit the Mortgage Refinance category of TopConsumerReviews.com at http://www.topconsumerreviews.com/mortgage-refinance/.
About TopConsumerReviews.com
TopConsumerReviews.com, LLC is a leading provider of independent reviews and rankings for thousands of consumer products and services. They offer the latest on Mortgage Refinancing including information, education, and ratings for the best mortgage refinance services available today.