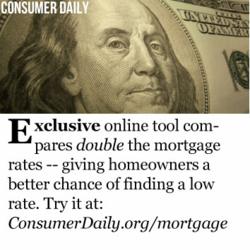 Palm Beach, FL (PRWEB) November 07, 2012
To get the most benefit from low interest rates, consumers should carefully examine the rates from many different lenders and banks. In the past, the only way to do this was to visit each financial institution individually and request a rate. Depending on a homeowner's or homebuyer's credit, the offered rate might vary. Recently, Consumer Daily's service has become available. By simply supplying a zipcode, mortgage amount and desired mortgage type, consumers are immediately provided with multiple quotes from several banks and lenders. In particular, Consumer Daily uses two large lender databases, ensuring that homeowners and homebuyers are able to access rates from as many financial institutions as possible. The majority of other website comparison tools only allow access to one lender database. These databases can be accessed at:
http://www.consumerdaily.org/mortgage/
With the recent economic turmoil, homeowners and potential buyers may be hesitant to take on mortgage debt. In many markets, housing prices have started to pick up as well. However, it's important to keep in mind that while current rates are slightly higher than the record of 3.36% reached a month ago, the rates are still close to historical lows and therefore advantageous for consumers looking to buy or refinance a home. Indeed, the historical long term average for 30 year fixed rate mortgages is an incredible 8.74%.
For new home buyers, purchasing a home at or near these historical lows represents a huge savings in interest over time. Consider a modest $200,000 home - With a mortgage at 3.36% over thirty years, the buyer would pay about $115,000 in interest charges over the lifetime of the loan. On a thirty year mortgage with a rate of 4.5%, the interest charges suddenly jump to $163,000 - nearly $50,000 more. If interest rates rose close to historical long term averages, the amount would be even higher.
Similarly, for homeowners looking to refinance their existing home, the monthly interest savings can be substantial. On the same $200,000 mortgage amount with the 4.5% interest rate, the mortgage payment is over $1000 per month. With current low rates, it is only $875 a month - a savings of $125 each and every month. That savings can be applied to higher interest debts or even home renovations and repairs.
Even with access to all of these 30 year fixed rate mortgages, it can be difficult to know if it is a good time to buy or refinance. In a statement, Frank E. Nothaft, Freddie Mac vice president and chief economist, attributed the continuing low rates to a growing economy and low inflation. Whether or not we will continue to see low rates for 30 year mortgages is uncertain. However, it is clear than many people can benefit from refinancing or purchasing at these low rates. Using a site such as Consumer Daily, prospective homebuyers and homeowners looking to refinance can ensure that they find the best mortgage rate possible before committing to financing.