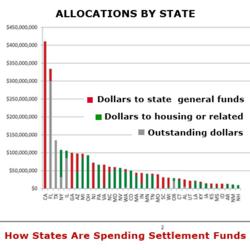 Particularly in some of the hardest hit states, are not going to help prevent foreclosures, stabilize communities, and prevent or prosecute financial fraud as originally intended. ~ Terri Ludwig
Minneapolis, MN (PRWEB) October 26, 2012
U.S citizens have been on edge experiencing our historic $25 billion National Mortgage Settlement, wondering who and how the allocated funds will be dispersed. A new study by the Enterprise Community Partners, entitled "States Fall Short on Help for Housing: Six Months after Mortgage Settlement" reports on just that.
Six months later, alarmed homeowners are learning that many states are reported as failing to spend the mortgage settlement billions on housing correctly. The District of Columbia and the 49 states who were parties to the settlement have been allocating and distributing their respective shares of the $2.5 billion that was designated to them. However, less than half of the announced expenditures will be used as intended.
Is greed or the pressures of state debt snaring a percentage of funds meant to go directing to housing? Direct payments to the states were intended to avoid unnecessary foreclosures, stabilize communities, and prevent or prosecute financial fraud.
Jenna Thuening, owner of Home Destination, says, "At a time that the housing recovery needs state support and trust levels need to be strengthened, the report titled 'States Fall Short on Help for Housing: Six Months after Mortgage Settlement, Less than Half of States' $2.5 Billion Has Gone for Housing' needs a call to action. As a Minnesota resident, I was relieved to read in the report that Minnesota designated over 90% of its share precisely as intended".
To date, states have announced plans to spend $966 million for housing and foreclosure-related activities. The concerning news is that $988 million has been diverted to states' general funds or for non-housing uses. There is $588 million remaining to be allocated. Texas and Florida own rights to the largest portion of the remaining funds with the balance to be divided out out among states that have already begun to roll out their plans. California, Florida, New Jersey, and Georgia are sending dollars to state general funds.
There seems to be some measure of disregard for the designated role of the attorney generals to negotiating the settlement. The Office of Mortgage Settlement Oversight, Inc. ("OMSO"), a not-for-profit organization that was created to provide administrative support and Joseph A. Smith, Jr., was appointment and confirmed as Monitor on April 5, 2012. It was clear in the stipulations how states were to use their share of the funds. The report says, "Legislatures and governors have often weighed in heavily on how the funds will be spent. This has led to some very public disputes over who has the actual authority to allocate the money".
According to Enterprise's findings, states (notably; Nevada, Ohio, Minnesota and Pennsylvania) correctly allocating funds are doing so in the following manner:
25 states will spend funds on legal assistance to homeowners
21 states will spend funds on housing counseling
17 states will spend funds on law enforcement or more litigation
14 states will spend funds on marketing or outreach to educate residents about foreclosure-prevention options
13 states will spend the funds on foreclosure prevention
8 states will spend funds on affordable housing programs
8 states will spend funds on foreclosure mediation programs
"In some cases, the states haven't rerouted the monies, it is mired by the frustration of state officials tangling about how their share is spent. Fitch Ratings foretasted some banks being encumbered by new processing costs, however, getting funds to homeowners has been mired by lenders dragging the process, too." says Thuening.
"While some changes, such as implementation of a single point of contact for borrower communication, occurred quickly, the banks have taken the full 180 days (six months) to stop dual tracking," said California Monitor Katherine Porter describing the servicers' efforts to reform their practices. "This is permissible under the settlement. But this waiting has been painful for homeowners, whose fate is uncertain under the dual track regime."
As a Certified Distressed Property Expert, Jenna is skilled both in helping Minneapolis area homeowners find alternatives to foreclosures and others to buy distressed properties. Contact Home Destination at 612-396-7832 for guidance.