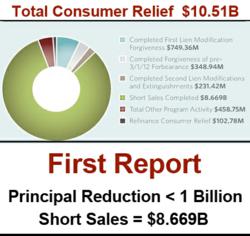 "You are seeing a faster start on short sales completed under the agreement because that didn't require a new process to be built, compared to first-lien modifications and the refinance program," says Dan Frahm, a Bank of America spokesman.
Minneapolis, Minnesota (PRWEB) August 31, 2012
The National Mortgage Settlement was reached between 49 states and five of the country's most influential banks, consisting of: Ally/GMAC, Bank of America, Citi, JPMorgan Chase and Wells Fargo. Each individual bank agreed to follow new mortgage serving standards and to provide loan modification and other forms of relief. Amidst concern that the settlement was in fact possible to implement, Joseph A. Smith, Jr., was appointment as Monitor on April 5, 2012 of the Office of Mortgage Settlement Oversight (OMSO).
Two days ago, Smith and the OMSO released the first progress report.
Numbers on principal reduction are the first number that Home Destination is looking for. Being understood as the lead purpose of the settlement, it stands out in the report that banks have yet to manage $1 billion to reduce the high costs. The report data shows that $749 million in first-lien and $231 million in second-lien reductions are the only numbers in from banks. Disappointingly, the Bank of America has $0 to report.
Anti-blight programs like bulldozing homes, giving homes away, and forgiving deficiency judgments have made up an equal part to the number report as first-lien modification forgiveness. Quite on the contrary, short sales numbers show real progress, a confirmation that banks prefer short sales to draining foreclosures. Here is where the dollars came from:

Completed First Lien Modification Forgiveness $749.36M
Completed Forgiveness of pre-3/1/12 Forbearance $348.94M
Completed Second Lien Modifications and Extinguishments $231.42M
Short Sales Completed $8.669B
Total Other Program Activity $458.75M
Refinance Consumer Relief $102.78M
Many wonder just what difference the Settlement has made over life's natural course of the way things turn out. Optimism is up with a balancing caution. "I will continue to monitor the banks' efforts to fulfill their obligations under this settlement, as my office continues its work to hold banks and other financial institutions accountable for the destruction they've caused in our communities," said Illinois Attorney General Lisa Madigan. Concluding his report, Smith said, "I believe we have made a good first step."
The real question for many is centered on where are the principal reductions for responsible homeowners who work hard to gain them? In answer as to why the banks should comply better, Realtor Magazine says, "For starters, many of these institutions contributed to the problem with their securitization schemes and were rescued with trillions of dollars in taxpayer-funded bailout money. Although a substantial amount has been paid back, some has not and will never be returned."
Though it was not required by the Settlement, Smith sponsored the creation of the OMSO, a not-for-profit organization intended to provide administrative support for his work. As transparency is needed for the Mortgage Settlement to be effective, likewise, the OMSO will enable Smith to carry out duties transparently and independently with administrative oversight from the Board of Directors.
The OMSO what to hear what consumers are saying about their experiences with the five mortgage servicers. From mid-April to mid-August, individuals from across the country submitted complaints about the issues they are facing, and it goes a long way to bring about clarity to our leaders in office.
The Office of the Mortgage Settlement Oversight requests assistance from a broad pool of interested participants. It welcomes any home mortgage borrower, including the counselors, attorneys, or other professionals who assist the homeowner, who have experiences with their Servicers that appear to violate these new standards should share that information with OMSO through its website. Here is the link. Home Destination encourages concerned homeowners to make use of the invitation to gain help and share any experiences of violation.
Contact Jenna Thuening, owner of Home Destination if you are a Minneapolis area homeowner facing a short sale, foreclosure, or need someone with the experience of a Certified Distressed Property Expert to talk to. Call 612-396-7832.