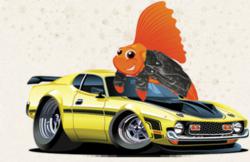 I think it's absolutely nuts that almost half of all the people polled didn't know that mortgage lenders go by credit scores to approve loans...
New York, NY (PRWEB) May 23, 2013
RoadFish.com men's lifestyle and finance magazine today issued their observations regarding the poor knowledge American consumers displayed when polled by VantageScore about what actions would help or harm their credit. RoadFish.com suggested that all consumers take an at-home online credit score quiz to dispel inaccuracies in what they believe to be true regarding credit.
Kathy Lynch of the Financial Advisor online magazine reported this week that consumers had "failed" a recent credit score quiz released by VantageScore Solutions and the Consumer Federation of America (CFA). According to the survey, 40% of people polled had no idea that credit card issuers and home mortgage lenders analyze the credit scores of potential borrowers in order to figure out what interest rate they should be charged. Another 40% of respondents believed that marital status and age are two factors that affect one's credit score, when in fact neither statistic has anything to do with calculating one's score. VantageScore's CEO, Barrett Burns, is quoted as saying, "Misperceptions about credit score are extremely concerning to us. People who fail to understand exactly what can impact their score have little incentive to manage the real things that truly do make a difference."
RoadFish.com thinks it's incredibly sad how little consumers have proven to know about credit. RoadFish.com's Senior staff writer is quoted as saying, "I think it's absolutely nuts that almost half of all the people polled didn't know that mortgage lenders go by credit scores to approve loans and determine interest rates. What's scary about it is that I'm sure probably about half the people who took the survey own a home, and so you've got people who are applying for home loans with no clue that their credit score could be costing or saving them a ton of money depending on how lousy or good it is. In a country where credit scores are so valuable and used for everything from buying a car to getting a job, it's just shocking to see how little people know about what goes into factoring that score, and what sorts of things impact it both negatively and positively."
According to the CFA's website, between 31-38% of respondents didn't know that if somebody were to co-sign a student loan, their credit could be positively or negatively affected by the loan—depending on whether the borrower made timely payments or fell behind with as little as just one late payment. And over 25% of those polled did not have a clue about the key ways to lift their score such as to keep low balances on their credit cards and not submitting applications for multiple card at once.
RoadFish.com encouraged consumers everywhere to take the CFA's credit score quiz to not only rate their credit score knowledge, but to hone in on areas where they are misinformed and to learn the truth about what affects their scores. RoadFish.com's Senior staff writer is quoted as saying, "People need to know how to maintain their credit and not do things that are going to make it nosedive. It's such an essential part of American finances, people cannot afford to be in the dark."
According to the above-mentioned CFA website, a sample size of 1022 adult Americans were polled for the survey.
About RoadFish.com:
RoadFish.com is an online lifestyle and finance publication geared towards men in their 30's and 40's who have enjoyed moderate success in life and take pleasure in chasing new personal and professional challenges. RoadFish.com features articles on hot chicks, men's luxury items, luxury watches brands, and restaurant reviews. RoadFish.com also gives financial advice and writes money articles about budgeting, debt, and the key factors that make up credit scores. RoadFish.com is owned and operated by Purpose, Inc.