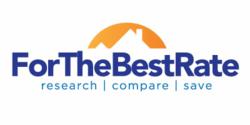 this historic pricing is encouraging many homeowners to price out their scenarios and shop around for mortgage quotes. It's truly an amazing opportunity for refinances or home purchases
Wilmington, NC (PRWEB) July 09, 2012
Fixed mortgage rates dropped even further setting new records for low home financing rates, reports ForTheBestRate.com, a website where consumers can research current mortgage rates. On Friday, July 6th, 2012 30 year fixed mortgage rates as low as 3.25% (APR: 3.45%, Points: 1.235, Fees: $1995, Lender: AmeriSave) were advertised in the rate tables on the website. 15 year fixed rates also dropped to new historic lows on average, which was reflected in the pricing advertised by lenders and brokers on ForTheBestRate.com. Rates as low as 2.88% (APR: 2.88%, Points: 0, Fees: $0, Lender: American Financial Resources) were posted.
Mortgage pricing data released Thursday, July 5th, 2012 in the weekly survey of mortgage rates from Freddie Mac, a government sponsored enterprise and purchaser of mortgage loans on the secondary market, confirmed the mortgage rate reduction. The report showed that for the week ending July 5th, 2012 rates for 30 year fixed rate mortgages averaged 3.62% (0.8 points.) This was a drop from the week before when the average pricing was 3.66% (0.7 points.) 15 year mortgage rates also moved lower to an average of 2.89% (0.7 points) from 2.94% (0.7 points.)
"We tend to see less consumer demand for mortgage rate information during holidays weeks," commented Nat Criss, Managing Partner of CMG Equities, LLC, which runs ForTheBestRate.com. "But this historic pricing is encouraging many homeowners to price out their scenarios and shop around for mortgage quotes. It's truly an amazing opportunity for refinances or home purchases," he continued.
Current mortgage rates for a number of different residential mortgage programs can be viewed on ForTheBestRate.com. Below is a snapshot of mortgage rates for a variety of products listed on the site on Friday, July 6, 2012. Greensboro, North Carolina mortgage refinance rates represented in this sample. Rates are subject to change. Please visit the site to view the criteria used in the survey.
30 Year Fixed Mortgage Rates
Residential Finance Corporation - 3.25% Note Rate, 3.41% APR, 2.000 Points, $0 Fees in APR
American Financial Resources - 3.25% Note Rate, 3.45% APR, 1.235 Points, $1995 Fees in APR
15 Year Fixed Mortgage Rates
Greenlight Financial Services - 2.75% Note Rate, 3.22% APR, 2.000 Points, $1995 Fees in APR
Loan Depot - 2.88% Note Rate, 3.05% APR, 0.00 Points, $1950 Fees in APR
10 Year Fixed Mortgage Rates
Quicken Loans - 3.500% Note Rate, 3.70% APR, 0.000 Points, $1587 Fees in APR
Market Consulting Mortgage - 2.75% Note Rate, 2.81% APR, 0.000 Points, $495 Fees in APR
5 Year Adjustable Rate Mortgage Rates
Third Federal Savings & Loan - 2.49% Note Rate, 2.71% APR, 0.000 Points, $1703 Fees in APR
AmeriSave - 2.50% Note Rate, 3.13% APR, 0.000 Points, $1995 Fees in APR
About ForTheBestRate.com
ForTheBestRate.com is a website that offers information regarding mortgages, insurance, and personal finance. ForTheBestRate.com is owned by CMG Equities, LLC based in Wilmington, North Carolina.