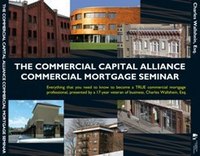 Jericho, NY (PRWEB) July 14, 2008
We are extremely pleased to announce that Commercial Capital Alliance/Exeter Commercial LLC President Michael Haltman has been added to MyMortgage Community.com as one of an extremely strong group of experts from around the mortgage industry.
Michael will be bringing his expertise from the commercial mortgage market to the membership, including such areas as product training, marketing and prospecting techniques. Some of the tools he utilizes are live presentations, webinars, teleseminars as well as the comprehensive training provided in his firms Commercial Mortgage DVD Training Program.
In a nutshell, this is what MyMortgageCommunity.com strives to provide to it's membership:
MyMC is the premier virtual coaching platform and online community for mortgage professionals. They connect mortgage professionals and industry experts inside a virtual community where ideas can be shared, strategic tools can be found and expert coaching from over 25 of the top industry coaches can be accessed.
The community is designed to provide the structure for today's best strategies, tactics and tools to be shared by experts, originators and branch managers in real time. MyMortgageCommunity.com was founded by experts in the mortgage business who have been a part of the business for decades and understand that the mortgage industry is lacking a communication channel where all mortgage professionals and industry experts can connect.
To learn more about what MyMC.com has to offer, please visit today at http://affiliates.MyMortgageCommunity.com/idevaffiliate.php?id=1076 .
To examine one of the best commercial mortgage broker and investor training programs available anywhere today (3-DVDs, 108-page Course Manual and Deal Analysis Spreadsheet), please visit Amazon.com at: http://www.amazon.com/exec/obidos/ASIN/0979627001 .
Commercial Capital Alliance/Exeter Commercial LLC
Commercial mortgage lender/broker/trainer since 1990
131 Jericho Turnpike, Suite 202
Jericho, New York 11753
516.741.8880 (O)
http://www.easycommercial.com
http://www.thecommercialcapitalmortgageseminar.com
###