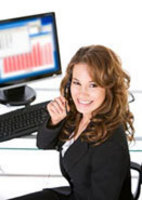 The sub-prime mortgage programs evaporated in 2007, so FHA home loans have become the home refinance loan in 2008. With home values declining nationally, many homeowners have been stuck in a high rate ARM, until HUD finally increased the loan amounts.
San Diego, California (PRWEB) April 16, 2008
BD Nationwide Mortgage introduces new loan limits for FHA mortgage refinance and home purchase loans. The increased loan limits for FHA mortgages offer a unique opportunity for homeowners to refinance into a lower interest rate loan that is fixed with 15 or 30-year terms. The lender is excited to release the FHA refinance loan that allows cash out up to 95% loan to value. With out cash out, borrowers can complete a rate and term refinance up to 97.5%. If financing a new home, applicants can also buy a home with less than 3% down.
This unique government insured mortgage product allows homeowners to escape their adjustable rate mortgage that has been draining their savings. The legendary FHA loan was created by the HUD in 1934 to ensure fair lending and has since evolved into a powerful refinancing tool for first time homebuyers, people with bad credit scores and for good credit borrowers who recently lost the equity in their homes due to the declining home sales that caused a foreclosure epidemic. The newly raised FHA loan limits open the doors for many homeowners residing in high cost areas across the country. For example in 2007 borrowers in Los Angeles, California were restricted to $362,000 for FHA loans and in 2008 the economic stimulus package recently enacted by Congress increased the loan amounts to $729,750 in the high cost areas in California and other states. Last year, borrowers found it extremely difficult to get approved for a mortgage refinance or FHA home loans because their first and second mortgages exceeded the conforming and FHA loan limits.
Unfortunately, many of our loyal clients who run into credit problems that hindered them from refinance qualifications. FHA loans offer significant value to consumers because the interest rates are low with fixed monthly payments and mortgage insurance is now tax deductible. Since FHA promotes evaluating credit by looking at the entire picture, there are no minimum credit score requirements so many people who were recently denied financing from a traditional lender now have an opportunity to secure a good loan. Unlike most bad credit mortgages, our FHA loans do not have any pre-payment penalties so if the interest rates drop again you will be eligible for a streamline refinance that reduces the interest rates at a minimal cost.
Jeff Moran, a CFB loan specialist, said, "The fha refinance loans enable my clients to refinance into a secure thirty year fixed rate mortgage at a competitive rate and a monthly payment that they can afford. Homeowners can get access to cash at the same time they are refinancing their adjustable rate mortgage." According to Mr. Moran, "The sub-prime mortgage programs evaporated in 2007, so FHA home loans have become the home refinance loan in 2008. With home values declining nationally, many homeowners have been stuck in a high rate ARM, until HUD finally increased the loan amounts." Moran continued, "Many of my clients in California, Florida, Washington and New Jersey have been held hostage by the mortgage meltdown on Wall Street." With the new FHA home loans limits being increased between $400,000 and $729,000, thousands of homeowners finally have an opportunity to refinance into a mortgage that makes sense with their budgets.
According to mortgage executive, Jen Mclean, "The lending institutions, the Federal Reserve, HUD and Wall Street have finally come together with full support for FHA mortgage loans that are government insured with competitive rates and desirable loan terms that favor the consumer." After so many sub-prime mortgage companies tanked last year, there was a huge void for no equity home refinancing. Let's be honest, too many consumers were approved for 100% home financing with adjustable mortgage rates and risky negative amortization triggers that deferred the interest temporarily. The low payments with teaser rates led many borrowers down the wrong path and when the credit crunch arrived in 2007 the foreclosures increased by the thousands. Thousands of homeowners tried to refinance their ARMs only to find out that they did not qualify for mortgage refinancing because of tighten lending guidelines and declining property values. FHA mortgage loans provide prime interest rate refinancing people with past late payments, collections, consumer credit counseling and even bankruptcies.
BD Nationwide Mortgage recommends going online to read up on the latest mortgage news that has been rapidly changing with foreclosures piling up across the country. They suggest ask advice from experienced FHA lenders, like BD Nationwide. The home financing company also recommends to research government loan program parameters and credit qualifications for mortgage refinance. Consumers searching for updated FHA mortgage rates should visit: fha home loans.
About BD Nationwide Mortgage
We recently merged with CFB Loan Services who is chartered as a FHA mortgage lender to finance mortgages across the country. Our loan team specializes in cash out FHA mortgage refinancing, conventional refinance loans and debt consolidation. The company maintains cutting edge refinance products for all types of credit. This mortgage banker continues to promote fixed mortgage loans that offer a hedge against inflation and remain focused on expanding home ownership with cost effective real estate financing for borrowers with all ranges of credit scores.
###