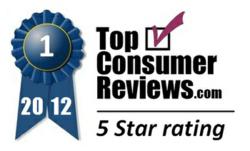 Lending Tree is a one-stop shop for mortgage refinance... [you can] quickly find the best lender for your specific needs.
Overland Park, KS (PRWEB) January 03, 2012
TopConsumerReviews.com recently awarded their highest five-star rating to Lending Tree, a full service mortgage refinance company.
Refinancing a mortgage can save a family hundreds of dollars in mortgage payments each month. However, many people make the mistake of only talking to their local bank to discuss home refinancing. Local banks rarely offer the best rates available. Refinancing a home through an online refinance company, however, lets a person quickly find the best rate given their credit worthiness, loan size, and type. The best mortgage refinance companies allow several banks to compete for each loan, in order to find the lowest mortgage payment possible.
"Lending Tree is a one stop shop for mortgage refinance. Their strong reputation, expertise and years of service have helped thousands of customers successfully refinance their mortgage," explained Brian Dolezal, of TopConsumerReviews.com, LLC. "Lending Tree also provides the best website available for mortgage refinance. You can find anything and everything you need to know about refinancing, as well as quickly finding the best lender for your specific needs."
To find out more about Lending Tree and other mortgage refinance companies, including reviews and comparison rankings, please visit the Mortgage Refinance category of TopConsumerReviews.com at http://www.topconsumerreviews.com/mortgage-refinance.
About Lending Tree
Lending Tree is a free, no-obligation service that will empower you to take control of your financial life. They have the interactive tools, personalized advice and comprehensive resources you need to successfully manage your finances. If you're looking for a loan, they can connect you with multiple lenders who'll compete for your business and provide customized loan offers. If you need help with your finances, they have a powerful suite of tools and personalized advice to help you budget your money, get out of debt, and boost your savings. For all your financial decisions, Lending Tree can help you every step of the way.
About TopConsumerReviews.com
TopConsumerReviews.com is a leading provider of independent reviews and rankings of hundreds of consumer products and services. From the best elliptical machines and home security systems, to the best payday loans and structured settlements, TopConsumerReviews.com delivers in-depth product evaluations in order to make your purchasing decision easier.
###