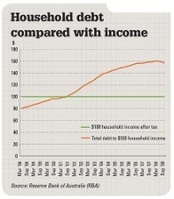 This strategy seems to be working, and is one reason why Australia's interest rates have bottomed out and mortgage defaults haven't been catastrophic here.
Sydney, Australia (PRWEB) August 17, 2009
Can Lines of Credit Disappear?
In Australia, Line of Credit home loans have been a flexible way of people gaining access to funds secured by their own homes. But what happens when a lender cancels a line of credit, and how can this be avoided? Bruce Gow of Mortgage HQ comments on whether this may have contributed to the GFC in Australia?
Bruce Gow of Mortgage HQ stated this morning, "The Australian Bureau of Statistics reported this week that there was a moderate recovery in the housing market.
"Detached homes received a 4.2 per cent growth in the second quarter of 2009.
"The first quarter estimate of -2.2 per cent was revised up to -1.5 per cent.
"There is stil a concern that first time home buyers are getting easy credit, particularly with lines of credit.
"Since the start of the Global Financial Crisis (GFC), banks have had to increase the terms of their lending criteria, to halt what has happened financially in the US and UK.
"This strategy seems to be working, and is one reason why Australia's interest rates have bottomed out and mortgage defaults haven't been catastrophic here."
"Unemployment rates haven't risen to the heights that were being predicted about six months ago. House prices haven't continued to drop either. In fact they are now on the rise."
Dr Alex Joiner, Economist -Macroeconomics & Interest Rate Strategy, of ANZ Bank, made this comment:
"According to the ABS, Australian median house prices rose a very strong 4.2 per cent in the June quarter, vindicating our positive view of the Australian housing sector and adding a further 'nail in the coffin' of the doomsayers. Revisions to previous month's estimate now have house prices falling just 1.4 per cent in the year to June. This suggests that any talk of a housing bubble is misguided...
"Today's data is yet further evidence that the solid fundamentals of the Australian housing market continue to support prices."
Australians are not being affected as badly with the GFC as US & UK citizens, though thousands of Aussies have been on the wrong side of Lines of Credit and have lost their homes.
Firstly, What is a Line of Credit?
A line of credit may allow the borrower access to the equity within the home to borrow for other reasons at home loan rates. The equity is simply the difference between what what the home is worth and what is owed on it.
Hopefully, the value of the home will increase over the years, so that even if it hasn't been paid off, a significant amount of the loan has been repaid and the equity and real worth of the home has increased.
While lines of credit may be an effective way of consolidating debts at low interest rates, they may also lead into paying little off the principal of the loan or even going backwards. This is especially so in the midst of the Global Financial Crisis.
Remember, every time a borrower accesses their line of credit for a new car, holiday etc, they are wearing down the equity in their own homes.
Some Reasons why a Line of Credit May Be Revoked
1. Untruthful Applications
If the borrower didn't fully disclose all relevant financial details to the lender that would affect their decision to lend you the money, they can certainly take away the facility.
Often people inflate the value of the property or their ability to repay the loan via personal financial circumstances. If these misrepresentations are revealed, the line of credit may be revoked immediately.
2. Exceeded Credit Limits
It seems the temptation of having easy access to loads of cash is too much for many borrowers. Some people simply can't control their spending and will need to have their repayments altered so that they are easy to meet, or in some unfortunate situations, the line of credit may be withdrawn altogether.
3. Circumstances Dramatically Change
Nearly all loan documents insist that the lender is informed when the financial situation affects the ability to repay the loan. In extreme cases, this may relate to bankruptcy, imprisonment or death of the main provider. If the home owner doesn't inform them promptly of these circumstances, they (the lender) can commence cancellation of the loan.
Common Terms & Conditions
A common clause in many loan documents reads something like:
"We may refuse to provide further credit at any time without prior notice to you. We may also reduce or cancel the credit limit at any time without notice to you. If we cancel the credit limit we may ask to pay the money owing in full immediately."
What to do if a Line of Credit is Cancelled
In the unlikely event that a lender revokes a line of credit, there are 3 options depending on why the loan was revoked.
1. Convert the line of credit to a standard into a standard loan.
This is the best option if the home owner can meet the loan criteria, especially if the lender is persuaded to waive establishment fees and termination costs.
2. Refinance with another Lender.
This option may be difficult if not impossible dependant again on the situation. On the other hand, the financial market is constantly changing and new products may arise that suit different needs
3. Dispose of the asset used as the security - the home
This is clearly the worst option and the scenario is usually when mortgage refinancing isn't possible because the value of your home dropped significantly and all the equity available through your line of credit is used up before the facility was withdrawn. Then the borrowere would have to look for a lender that will lend more than the home is worth.
As this is extremely unlikely, the home owner would have to have a fire sale of the property to clear most of the debt.
In brief
Knowing the terms and conditions of lines of credit is vitally important, especially when the stakes involve the roofs over heads. Knowing where the home owner stands before entering such an agreement is a must, and any uncertainties must be discussed in full before proceeding. Lines of credit may be a powerful tool in peoples financial health, but like any loan, restraint and discipline should never be abandoned in pursuit of temptation.
Debt Relief Contacts in Australia
Financial Ombudsman Service, 1300 780 808
Credit Ombudsman Service, 1800 138 422
Credit & Debt Hotline, 1800 808 488
Financial Counsellors
Financial counsellors offer a free and independent service to help persons assess their options if they're having trouble managing debt. Google "Financial Counsellors" or "Free Financial Counselling" including locality or capital city to find a Financial Counsellor in the area.
Useful Resources:
Financial Counsellors Association of NSW
Wesley Mission
Centrelink
Consumer Credit Legal Centre
Insolvency and Trustee Service Australia
Refinance your loans
See this article on Mortgage Refinancing
Last Resort - Bankruptcy
Home owners can get relief from all of of their debts by going bankrupt, but this is really the very last resort. This will usually mean that they are bankrupt of a period of 3 years. They would be very much restricted by what they can own, anything of real financial worth such as an inheritance will go straight to their creditors.
They would have to pay 50% of their income above $41,250 and more than this if they have dependants. Another disadvantage is that they can't have employment which requires the handling of money or require a licence, and they will require permission from their trustee if they want to travel. More information is available on this from http://www.itsa.gov.au.
*Caution: The information contained on this press release only has general financial advice. Consult your financial advisor for any specific financial advice. This will assist in determining your own situation and specific financial requirements.
Bruce Gow owns Mortgage HQ and specialises in Search Engine Optimisation, using press releases and article submission for advanced link building
# # #