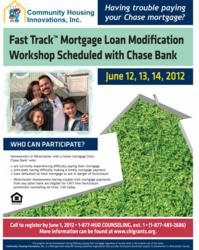 Knowing what paperwork you need ahead of time and being well prepared for the first meeting with the bank is critical to speeding up the home loan modification process, that's where CHI's support is important.
White Plains, NY (PRWEB) May 23, 2012
Community Housing Innovations (CHI), a HUD approved non-profit housing counseling agency, will host a free three day event to help Chase Bank mortgage holders who are having difficulty paying their mortgage loan move closer to a resolution through one-on-one meetings with Chase Bank representatives. The event will take place on June 12, 13, and 14 at the CHI offices located at 190 East Post Road in White Plains, New York.
The CHI Fast Track™ Loan Modification Program is a unique program designed by CHI to remove roadblocks from the loan modification process by providing a forum for homeowners to have face-to-face contact with a bank's representatives, leading to the bank making quicker homeowner relief decisions. This is the fifth such workshop they will host.
"What is really unique about this program is our ability to work with homeowners before the workshop to get as much of the paperwork in order as possible so that the process is that much further along once they meet with the bank representatives," stated attorney Peter Spino, CHI's Senior Manager of Foreclosure Prevention Counseling. "While banks have departments in place to deal with loan modifications, there are still representatives who are unfamiliar with the process and this can be extremely frustrating for homeowners. Knowing what paperwork you will need ahead of time, and being well prepared for the first meeting, is critical to speeding up the process," added Spino, who has been with CHI since 2009.
Chase bankers will see 100 homeowners over the three day period for approximately one hour, and each will receive free support from CHI before, during and after the workshop. Because of the limited space, Chase mortgage holders are encouraged to sign up early.
Individuals who would like to register for the program should contact CHI at 1-877-483-2686, ext. 1. More information can be found at http://www.chigrants.org.
Homeowners in Westchester County, New York who are currently experiencing or are anticipating having difficulty making timely mortgage payments, or who have already defaulted or are in danger of foreclosure, are eligible to participate. There is no fee to take part in the event. Homeowners with mortgages through other banks can also receive support services through CHI.
CHI's mission is to "provide the housing and human services that enable low and moderate income families and individuals to achieve the greatest social and economic independence at the lowest cost to society." Since its founding as a 501c (3) nonprofit in 1991, the agency has helped thousands of homeless persons and low income families and individuals. The agency is skilled in the development of many different types of housing with community acceptance and support. CHI has developed 25 projects and owns and manages over 600 housing units in the New York area.